(This page will be updated monthly.)
US desktop search volume on a monthly basis from December 2004 to present (June 2015). Data is compiled from comScore qSearch and Nielsen//NetRatings MegaView Search reports.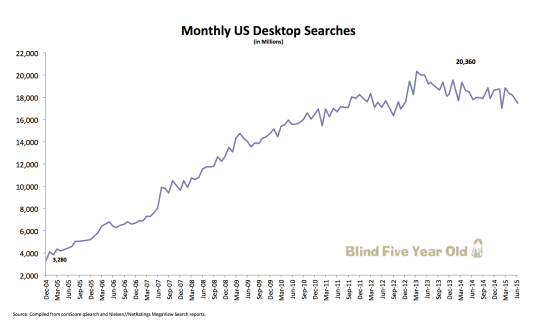 Commentary
June saw more negative numbers with a 2.03% decrease, year over year, in desktop search volume. That's now six straight months of year over year declines. It's clear that other platforms – mobile and tablets – are slowly but surely drawing more query volume away from desktop.
It's also interesting to note that Google's reported share in June was 64.0% down from 67.3% in September 2014. This includes the impact of Yahoo's Firefox search deal but doesn't account for the recent news that AOL has swapped Google for Bing. That deal doesn't go into effect until 2016.