(This page will be updated monthly.)
US desktop search volume on a monthly basis from December 2004 to present (December 2014). Data is compiled from comScore qSearch and Nielsen//NetRatings MegaView Search reports.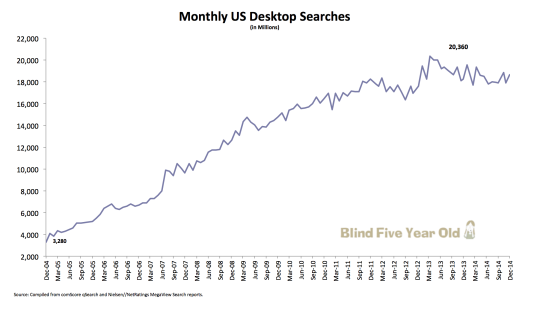 Commentary
After a 10 month decline, December saw an increase of 2.17%, year over year, in desktop search volume. This wasn't entirely unexpected as the decline YoY was getting smaller and smaller each month.
December was also the first month in which we saw the impact of Yahoo's Firefox search deal, which resulted in a 1.6% change in market share between the Google and Yahoo.
I'm curious whether Firefox generated more searches as a result. Or perhaps, people used the default Firefox search and were unhappy with the Yahoo result and then performed the same query on Google. This 'double search' behavior might be a contributing factor to the increase in search volume.