(This page will be updated monthly.)
US desktop search volume on a monthly basis from December 2004 to present (November 2014). Data is compiled from comScore qSearch and Nielsen//NetRatings MegaView Search reports.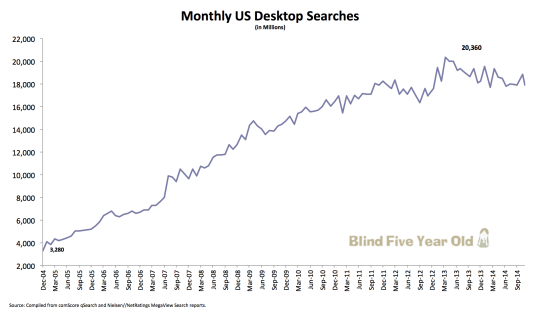 Commentary
The last ten months have seen year over year declines in desktop search volume. The ten month decline is now the longest stretch of decline recorded.
However, the YoY decline continues to decelerate. In May 2014 the decline was 7.67%. Since then it has gone down with November only seeing a 1.27% decline YoY.
While the surge in mobile search (and voice search in my view) is eating away from desktop volume there may still be some life yet in desktop search. I doubt we'll ever see huge growth in desktop search again but perhaps minimal growth could be a possibility.
We don't quite know how saturation of smartphones and the adoption, acclimatization and synergy between devices will shake out. Will we see people conducting preliminary searches on mobile but picking them up and continuing a query chain on desktop? Will people self-select which queries are better served by device?
It's hard to tell and while I'd place my bet on mobile (and to a lesser extent wearables) right now the true measure will be in user behavior.