(This page will be updated monthly.)
US desktop search volume on a monthly basis from December 2004 to present (July 2016). Data is compiled from comScore qSearch and Nielsen//NetRatings MegaView Search reports.
Commentary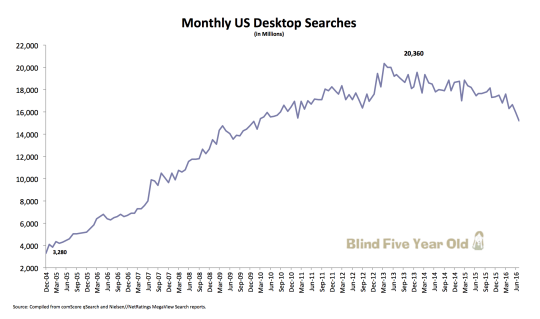 July saw a whopping 13.79% decrease, year over year, in US desktop search volume.  In fact, the last time desktop search volume was lower was in February of 2010. That's … nearly six and a half years ago!
We know that mobile search eclipsed desktop search, but it seems clear that mobile search continues to erode desktop query volume. Not only that but the speed of the shift from desktop to mobile seems to be accelerating. This is the first time I can absolutely see a downward trend when eyeballing this graph.
The mantra remains simple. Go mobile or go home.