In the last few weeks I've noticed more results appearing from a single domain for a growing number of queries. Not only that but I'm seeing duplicate and less relevant results within those single domain results.
Single Domain Results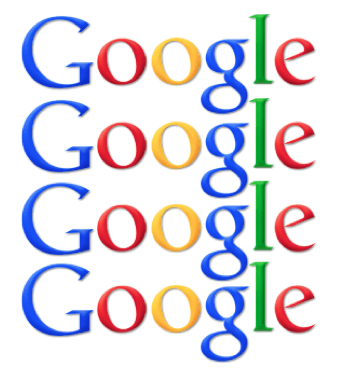 In August 2010 Google began to serve more results from a single domain for certain queries. However, sometime during 2011 I believe Google pulled back and search results were, once again, more diverse. Our collective mania over Panda let things like this slide under the radar.
Today, I'm seeing more and more single domain results and what I'm seeing in them isn't all that valuable.
Duplicate Results
One line sitelinks often create duplicate results. Here's a search result for Oakley Sunglasses.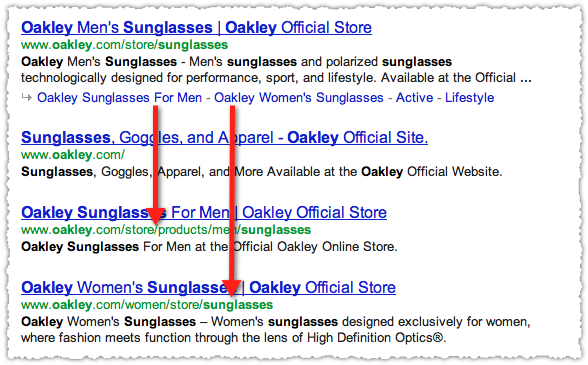 Oakley owns the first four results for this query. But the one line sitelinks in the first (and most relevant) result are then duplicated with full results. This seems inefficient and potentially confusing.
This is not an isolated instance either. It's easy to find other examples of this type of duplication.

Frankly, I'm not entirely sure why the FAQ is a great result for an All Clad Cookware query anyways.
Root Domains
Another strange thing I'm seeing is that the root domain is returned for these queries. Here's a result for Easton Baseball Bats.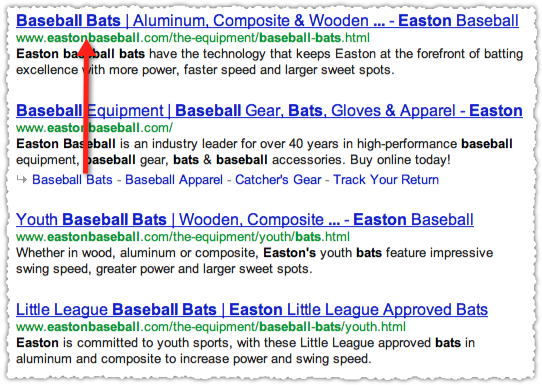 The first result is the most relevant but then the root domain is returned which then produces a duplicate sitelink. Here's another example for the query Roofing Shingles.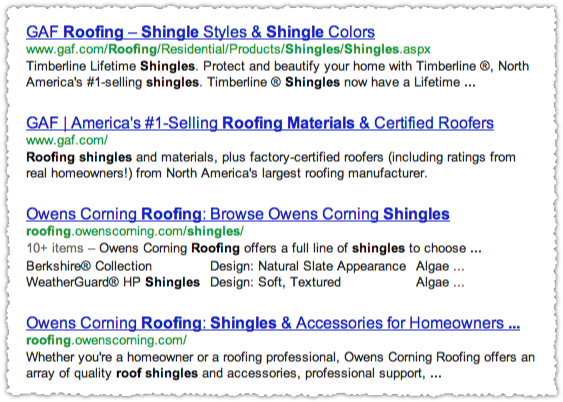 The deep link results from GAF and Owens Corning are extremely relevant but why does Google think it's a good idea to include the root domain in addition in both instances? If the goal is to get users to the most relevant information in the least amount of clicks why would you present a result which clearly doesn't achieve this goal?
Indents Live On with JavaScript Off
Perhaps you remember the Indent Massacre? In late 2010 Google removed indents, a visual queue for single domain results, from search results. Yet, in looking at search results with JavaScript turned off they're actually alive and well.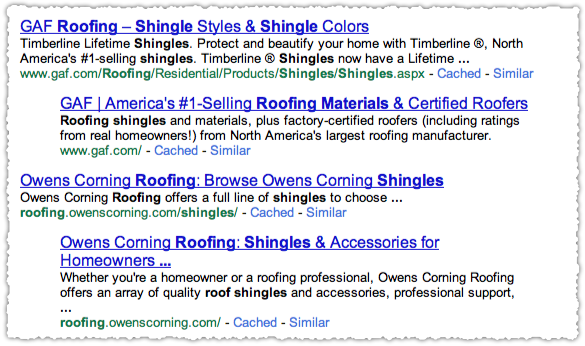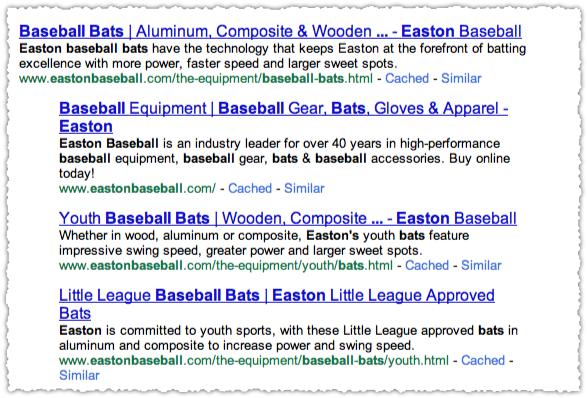 You'll notice that the one line sitelinks disappear, the Cached and Similar links are in-line with search results and the URL is back in the 'old' position. This type of progressive enhancement is something other sites may want to emulate as they look for ways to preserve crawl efficiency while improving user experience.
Now, I'd actually argue that the lack of indents or any visual cue that results are from the same domain is a step back in user experience.
I also wonder if loading the one line sitelinks via JavaScript makes it difficult to identify duplicates within single domain results.
Algorithm Debt
Google is clearly trying to figure out how to return and present results when they believe the intent is focused on a specific domain or entity. I know some will say this is about brand bias but the truth is it can be difficult to determine a brand from a generic domain. It's why exact match keyword domains remain a thorn in Google's side.
The last 18 months has seen an incredible amount of change in this area, from the August 2010 announcement that they'd serve more results from a single domain, to compact snippets (which no longer exist as far as I can tell), to supersize sitelinks to the ongoing evolution of one line sitelinks (now with arrows).
However, it looks as if Google has acquired some debt during this process. Because duplicate results and the pervasive presence of the root domain likely erode user experience and relevancy.
Not only that but it creates the wrong type of incentive, a perverted version of host crowding as sites look for ways to rank multiple pages for the same term. What better way to fend off your competition than pushing them farther down the page!
I expect that we'll see additional changes here as Google works through this debt and ensures that single domain results actually add value to search results.
The Next Post: Author Rank
The Previous Post: No Such Thing As A Good Scraper