(This post has been updated so make sure you read all the way to the bottom.)
Are non-linking URLs (pasted URLs) seen as links by Google? There's long been chatter and rumor that they do among various members of the SEO community. I found something the other day that seems to confirm this.
Google Webmaster Tools Crawl Errors
I keep a close eye on the Crawl Errors report in Google Webmaster Tools with a particular focus on 'Not found' errors. I look to see if they're legitimate and whether they're linked internally (which is very bad) or externally.
The place to look for this information is in the 'Linked from' tab of a specific error.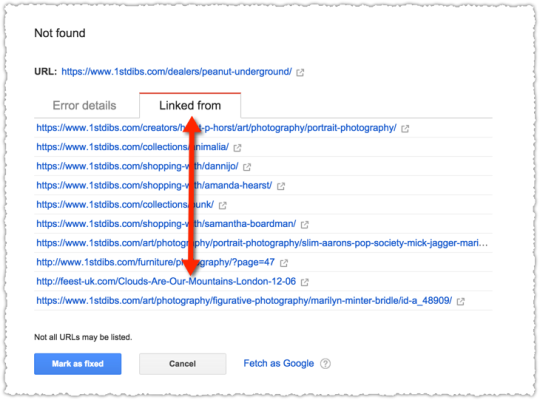 Now, all too often the internal links presented here are woefully out-of-date (and that's being generous.) You click through, search for the link in the code and don't find it. Again and again and again. Such was the case here. This is extremely annoying but is a topic for another blog post.
Instead let's focus on that one external link. Because I figured this was the reason Google continued to return the page as an error even though 1stdibs had stopped linking to it ages ago.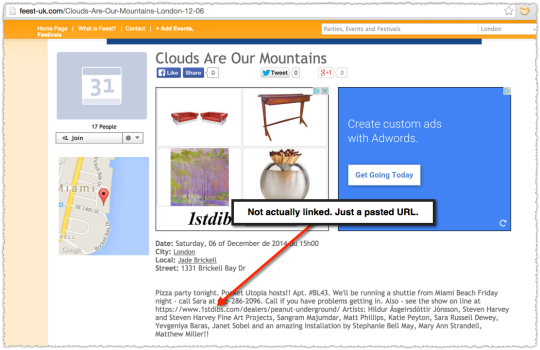 That's not a link! It's a pasted URL but it's not a link. (Ignore the retargeted ad.) Looking at the code there's no <a> tag. Maybe it was there and then removed but that … doesn't seem likely. In addition, I've seen a few more examples of this behavior but didn't capture them at the time and have since marked those errors as fixed. #kickingmyself
Google (or a tool Google provides) is telling me that the page in question links to this 404 page.
Non-Linking URLs Treated As Links?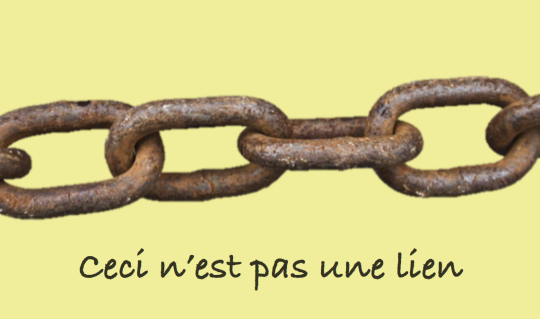 It's not a stretch to think that Google would be able to recognize the pattern of a URL in text and, thus, treat it as a link. And there are good reasons why they might want to since many unsophisticated users botch the HTML.
By treating pasted URLs as links Google can recover those citations, acknowledge the real intent and pass authority appropriately. (Though it doesn't look like they're doing that but instead using it solely for discovery.)
All of this is interesting from an academic perspective but doesn't really change a whole lot in the scheme of things. Hopefully you're not suddenly thinking that you should go out and try to secure non-linking URLs. (Seriously, don't!)
What's your take? Is this the smoking gun proof that Google treats non-linking URLs as links?
[Update]
Apparently John Mueller confirmed this in a Google+ Hangout back in September of 2013. So while seeing it in Google Webmaster Tools might be new(ish), Google clearly acknowledges and crawls non-linked URLs. Thanks to Glenn Gabe for pointing me to this information.
In addition, Dan Petrovic did a study to determine if non-linking URLs influenced rankings and found it likely that they did not. This makes a bit of sense since you wouldn't be able to nofollow these pasted URLs, opening the door to abuse via blog comments.
The Next Post: My Favorite SEO Tool
The Previous Post: Aggregating Intent