My favorite SEO tool isn't an SEO tool at all. Don't get me wrong, I use and like plenty of great SEO tools. But I realized that I was using this one tool all the time.
Chrome Developer Tools how I love thee, let me count the ways.
Chrome Developer Tools
The one tool I use countless times each day is Chrome Developer Tools. You can find this handy tool under the View -> Developer menu in Chrome.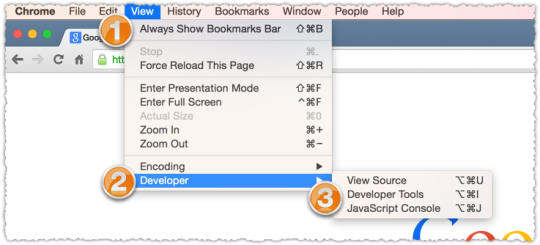 Or you can simply right click and select Inspect Element. (I suppose the latter is actually easier.) Here's what it looks like (on this site) when you open Chrome Developer Tools.

There is just an incredible amount of functionality packed into Chrome Developer Tools. Some of it is super technical and I certainly don't use all of the features. I'm only going to scratch the surface with this post.
But hopefully you're not overwhelmed by it all because there are some simple features that are really helpful on a day-to-day basis.
Check Status Codes
One of the simplest things to do is to use the Network tab to check on the status code of a page. For instance, how does a site handle domain level canonicalization.

With the Network tab open I go directly to the non-www version of this site and I can see how it redirects to the www version. In this case it's doing exactly what it's supposed to do.
If I want more information I can click on any of these line items and see the headers information.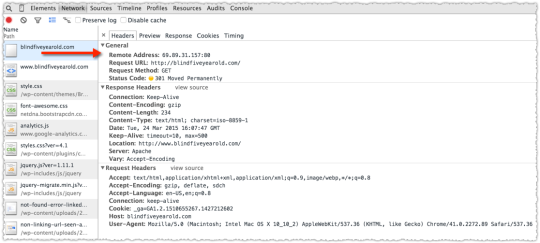 You can catch some pretty interesting things by looking at what comes through the Network tab. For instance, soon after a client transitioned from http to https I noted the following response code chain.
An https request for a non-www URL returned a 301 to the www http version (domain level canonicalization) and then did another 301 to the www https version of that URL.
The double 301 and routing from https to http and back again can (and should) be avoided by doing the domain level canonicalization and https redirect at the same time. So that's what we did … in the span of an hour!
I won't get into the specifics of what you can tease out of the headers here because it would get way too dense. But suffice to say it can be a treasure of information.
Of course there are times I fire up something more detailed like Charles or Live HTTP Headers, but I'm doing so less frequently given the advancements in Chrome Developer Tools.
Check Mobile
There was a time when checking to see how a site would look on mobile was a real pain in the ass. But not with Chrome Developer Tools!

The little icon that looks like mobile phone is … awesome. Click it!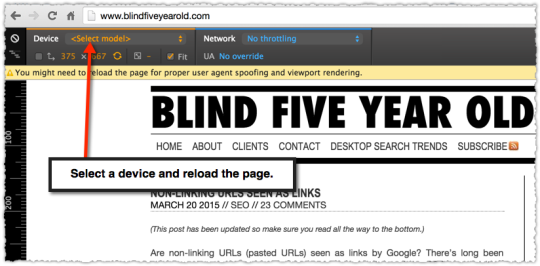 Now you can select a Device and reload the page to see how it looks on that device. Here's what this site looks like on mobile.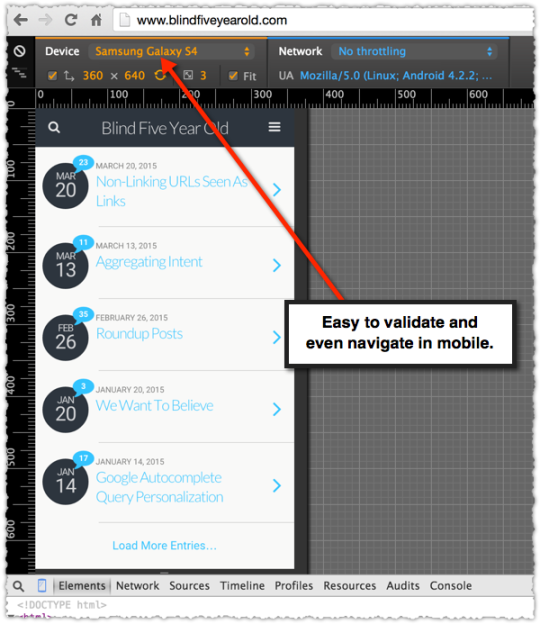 The cool thing is you can even click around and navigate on mobile in this interface to get a sense of what the experience is really like for mobile users without firing up your own phone.
A little bonus tip here is that you can clear the device by clicking the icon to the left and then use the UA field to do specific User Agent (UA) testing.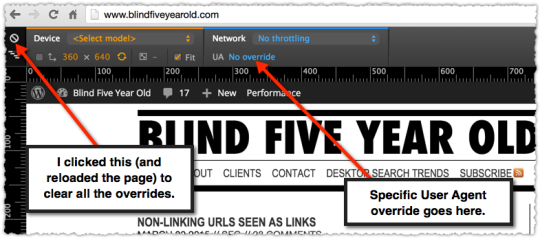 For instance, without a Device selected what happens when Googlebot Smartphone hits my site. All I have to do is use the UA override and put in the Googlebot Smartphone User Agent.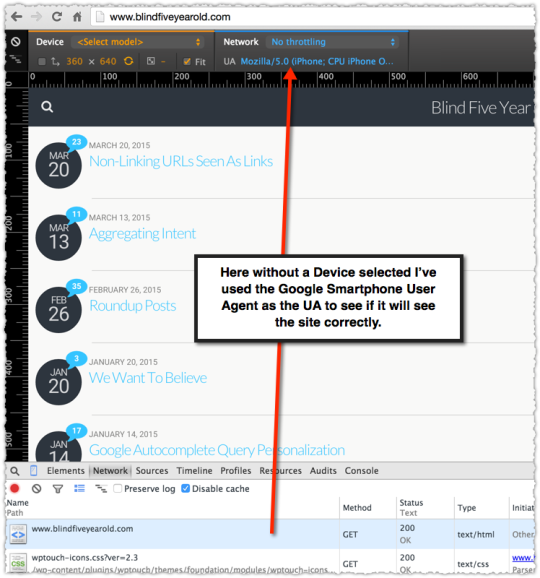 Sure enough it looks like Googlebot Smartphone will see the page correctly. This is increasingly important as we get closer to the 4/21/15 mopocalypse.
You can copy and paste from the Google Crawlers list or use one of a number of User Agent extensions (like this one) to do this. However, if you use one of the User Agent extensions you won't see the UA show up in the UA field. But you can confirm it's working via the headers in the Network tab.
Show Don't Tell
The last thing I'll share is how I use Chrome Developer Tools to show instead of tell clients about design and readability issues.
If you go back to some of my older posts you'll find that they're not as readable. I had to figure this stuff out as I went along.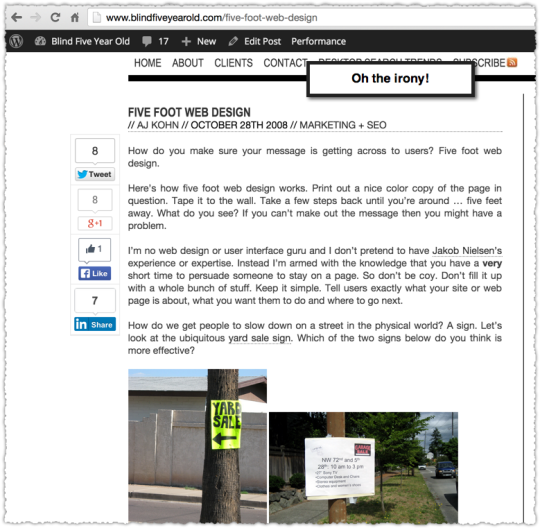 This is a rather good post about Five Foot Web Design, which pretty much violates a number of the principles described in the piece. I often see design and readability issues and it can be difficult for a client to get that feedback, particularly if I'm just pointing out the flaws and bitching about it.
So instead I give them a type of side-by-side comparison by editing the HTML in Chrome Developer Tools and then taking a screen capture of the optimized version I've created.
You do this by using the Elements tab (1) and then using the Inspect tool (2) to find the area of the code you want to edit.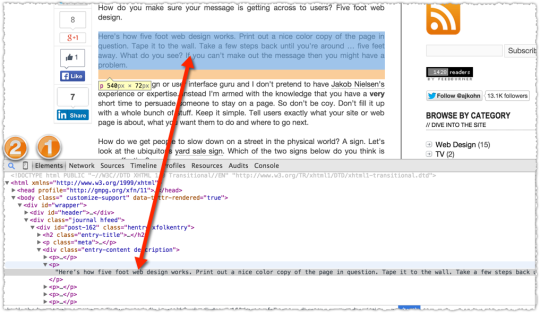 The inspect tool is the magnifying glass if you're confused and it just lets you sort of zero in on the area of that page. It will highlight the section on the page and then show where that section resides in the code below.
Now, the next step can be a bit scary because you're just wading into the HTML to tweak what the page looks like.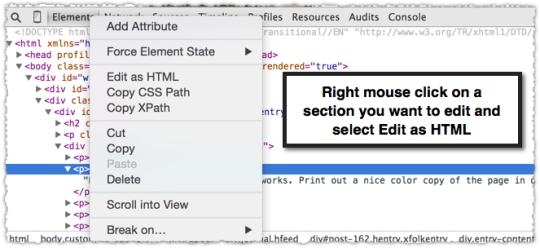 A few things to remember here. You're not actually changing the code on that site or page. You can't hurt that site by playing with the code here. Trust me, I screw this up all the time because I know just enough HTML and CSS to be dangerous.
In addition, if you reload this page after you've edited it using Chrome Developer Tools all of your changes will vanish. It's sort of like an Etch-A-Sketch. You doodle on it and then you shake it and it disappears.
So the more HTML you know the more you can do in this interface. I generally just play with stuff until I get it to look how I want it to look.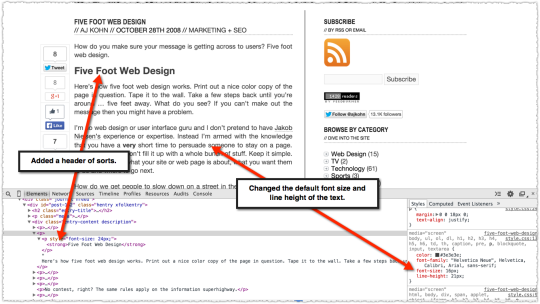 Here I've added a header of sorts and changed the font size and line height. I do this sort of thing for a number of clients so I can show them what I'm talking about. A concrete example helps them understand and also gives them something to pass on to designers and developers.
TL;DR
Chrome Developer Tools is a powerful suite of tools that any SEO should be using to make their lives easier and more productive.
The Next Post: Why Growth Hacking Works
The Previous Post: Non-Linking URLs Seen As Links