I hate mega menus. There, I said it.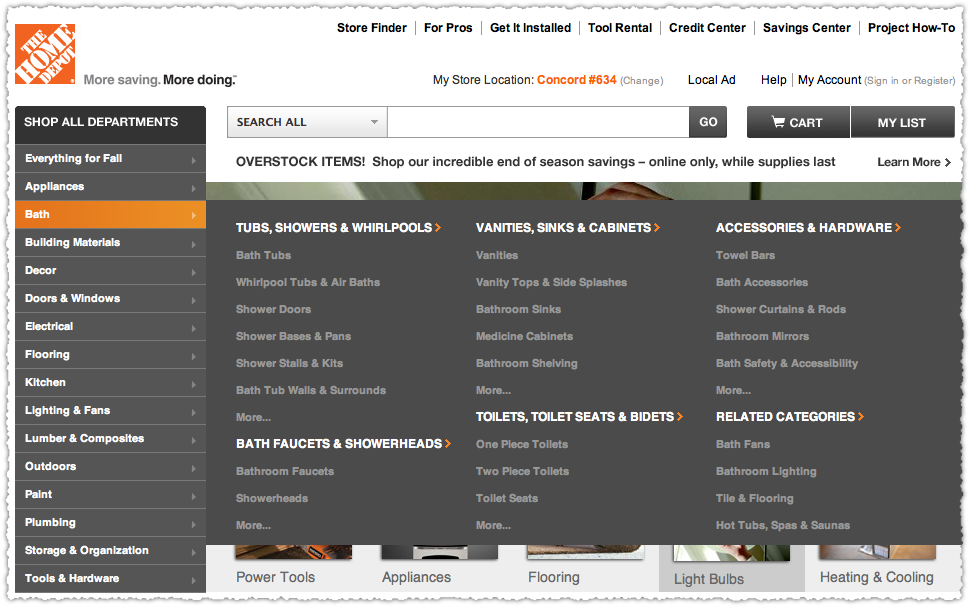 Here are five different perspectives that illustrate why I dislike mega menus.
As a User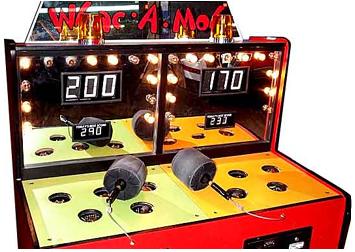 Many mega menus are often hard to use. Some are like a game of whac-a-mole, trying to get a cascading menu to expand and stay open so you can click on the right link.
Other times they're too sensitive, opening when you nick them with your mouse and interrupting normal browse activity. Not to mention some simply don't behave the same in different browsers.
Sure, some mega menus don't create this type of technical frustration. Yet even when they don't there is no standard mega menu interaction. Click to open or hover to open? Click to destination or click to reveal sub-menu? Users have to learn what actions produce what results.
Is this how you want your user spending their time?
As a Scientist
The theory behind mega menus is that they're supposed to get us to the 'right' information faster. Clicks are seen as pesky obstacles to be avoided at best and inherently bad at worst.
In the quest for fewer clicks, more choices are offered. But more choices often lead to fewer productive outcomes and less satisfaction. This is The Paradox of Choice, something I've blogged about numerous times. Studies have shown, again and again, that more is less.
Mega menus usually present an overwhelming number of choices to the user. As the adage goes 'a confused mind always says no.'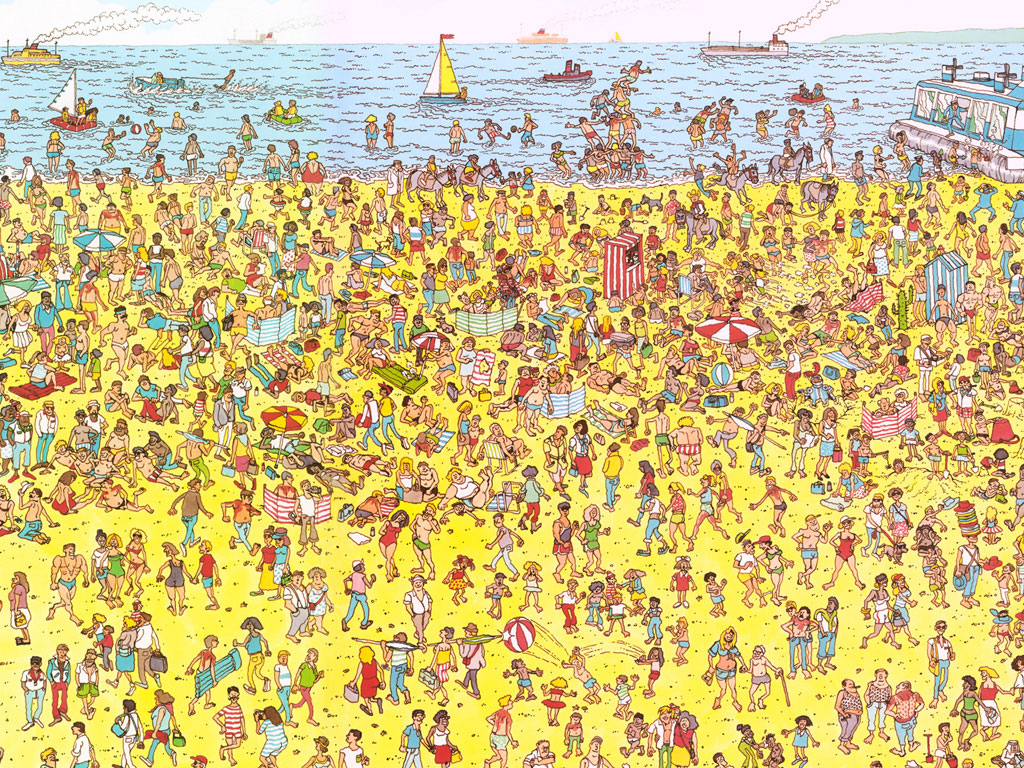 You're also trusting that the user knows exactly what they want and forcing them to find it. Mega menus are the Where's Waldo of navigation. You're making the user do all the work. Frankly, I don't need to be a scientist to know this is not a good thing.
As an Editor
An editor is supposed to bring focus to an endeavor, whether it be a book, magazine, website or film. Their job is to trim what is unnecessary and highlight what is important. Instead, mega menus make everything important. We know that's just not true.
Mega menus are often born out of the 'but what about' problem. It's the idea that if you don't show the user everything you offer (all at once), then they'll never find it.
Imagine if this same philosophy was applied to a magazine cover? Every section and article would have teaser text on the cover shattering any type of editorial tone or direction.
Mega menus are an abdication of the editorial process and thereby fail to provide guidance and expertise to your users. Even from a profit perspective, do you want to feature your low margin categories as prominently as your high margin categories? Seriously, think about it.
You might as well fire your editor if you're just going to pack every sub-category under the sun into your mega menu.
As a Marketer
Marketing is about telling a story and providing context to help users make a decision. If a user jumps to the end without any of the background, you've lost the ability to tell that story and provide vital guideposts along the way.
An article in UX Movement does a great job of describing this journey.
As users view page content, they can click on any link they find interesting. This takes them to another page of content with links they can click that leads to another page of content with more links and so forth. Before users know it, they will have consumed multiple pages of content through the clicking of content navigation links. That's true engagement.
Clicks and additional page views are not evil. Users feel good about a click when it leads to appropriate information and content. I made a decision and I got what I was looking for. Even if that leads to yet another decision tree, that's okay!

Create easy and rewarding decisions that allow you to lead your users through an experience. I'm reminded of the Choose Your Own Adventure books where certain decisions throughout the story lead to certain outcomes. It wouldn't be nearly as satisfying if the first choice you made was between all the different outcomes.
The story matters.
As an SEO
Mega menus often result in an astounding number of internal links that ruin any sort of contextual relevance between categories or content. Take L.L. Bean for instance.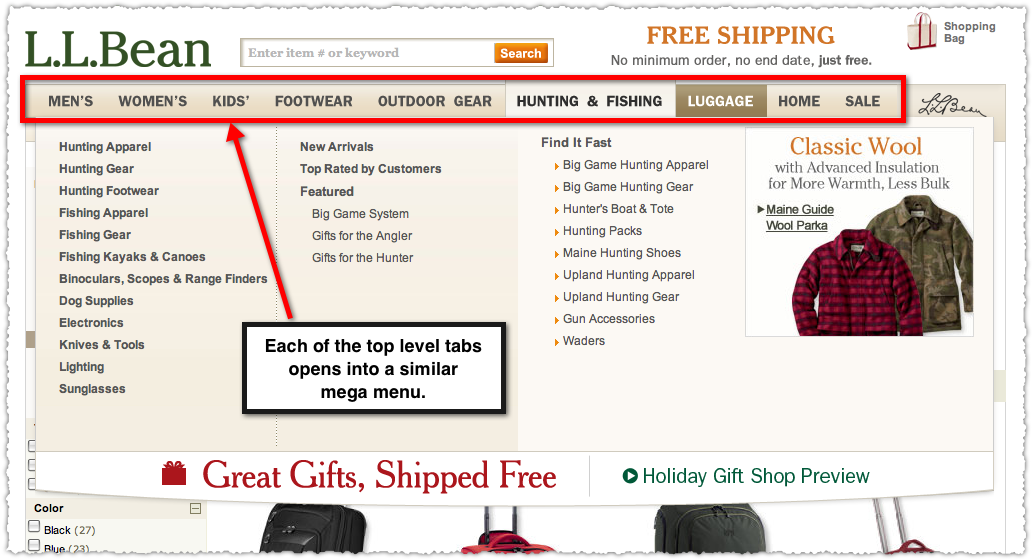 Their mega menu is displayed on each and every page. Here I've triggered the mega menu for Hunting & Fishing from the Luggage category. Even on a product page there are over 400 internal links.
Now, I'm not saying that PageRank is the end all to be all, but you're doing yourself no favors by splitting trust and authority into 400+ pieces.
Not only that but the links wind up being completely illogical. A page about sleeping bags also links to one about lunch boxes. A page about carry-on luggage also links to one about blouses. And that page about blouses links to one about gun accessories. Huh?
Mega menus can wreak havoc on internal link structures. You can minimize the problem by only showing portions of that mega menu based on context, but all too often that isn't how they are implemented.
But Jakob Nielsen Says …
Yes, in March 2009 Jakob Nielsen endorsed mega menus. I have a great deal of respect for Nielsen and have found most of his research to be enlightening and extremely useful. Yet, I find it tough to determine what exactly was measured in that study. Was it the ability to navigate? Task completion? Satisfaction?
Nielsen himself backed away a bit from the ubiquity of mega menus in November 2010, though he maintains it's about how mega menus are constructed and designed.
My own research and experience (not just personal anecdotes but in working with clients) leads me to different conclusions. I've never been one to blindly follow experts and instead bring my own critical thinking to the task and look to test assumptions. I encourage you to do the same.
TL;DR
Mega menus are often difficult to use, shift the burden of navigation to the user, reduce or eliminate editorial expertise, hamstring marketers and create SEO headaches. The road to hell is paved with good intentions. Mega menus mean well but usually wind up doing more harm than good.
The Next Post: Google Cached Pages Gone?
The Previous Post: SlideShare SEO