The latest comScore search engine rankings were released today. I'm sure many will focus on the small movements in market share between Google, Bing and Yahoo. Yet, there is big (really big) news buried in this release.
US Desktop Search Volume
I've been tracking this metric for more than seven years.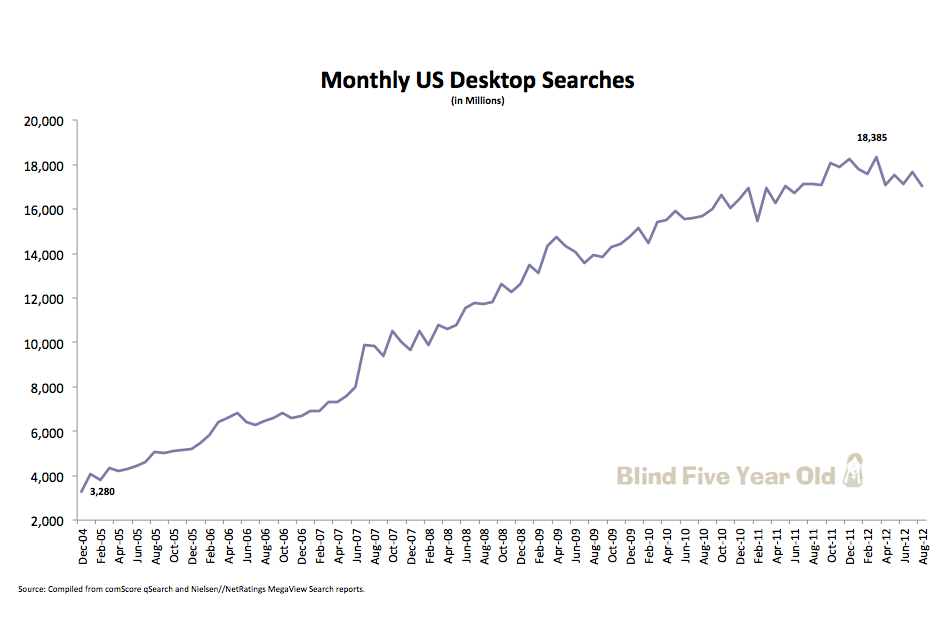 August 2012 was the first time we've seen US desktop search volume decline year-over-year. Specifically, volume in August 2011 was 17,122 versus 17,046 in August 2012.
This is a big turning point for search.
Search Trends Matter
This doesn't mean that search is dead, it's simply moved from desktops to phones and tablets. Unfortunately, I don't have a reliable source of search volume data for mobile search. The industry desperately needs one.
What it does mean is that mobile is not something you should think about, it's something you must think about.
Nearly a year ago I wrote about these search trends so I won't repeat those here (but go and read it … now). However, I think they did make a lot of SEOs look better than they were, helped Google rise to prominence and will make Facebook's post IPO prospects far less rosy.
As an industry we need to start thinking about how search is going to evolve and the different type of context and intent implied by phones and tablets.
Search, it's never boring.
The Next Post: Content Recall
The Previous Post: Readability and SEO