Blog commenting is the not-so-secret weapon to building your brand and authority. I'm not talking about comment spam or finding do follow blogs and littering them with links. No, the blog commenting I'm talking about lets you cut through the clutter and tap into the attention of creators.
Participation Inequality
To understand why blog commenting is so powerful you first need to grasp the concept of participation inequality.
In most online communities, 90% of users are lurkers who never contribute, 9% of users contribute a little, and 1% of users account for almost all the action.
You might also hear this concept referred to as the 90:9:1 Principle or The 1% Rule. You could even stretch a bit and mention the Pareto Principle in this discussion. The idea here is that the vast majority of people lurk and never participate. They are consumers of content.
A small minority, the 9%, may comment, share or participate in other ways. But it's the 1% left that actually create the content that is consumed. When I explain it to people I refer to these groups as lurkers, reactors and creators respectively.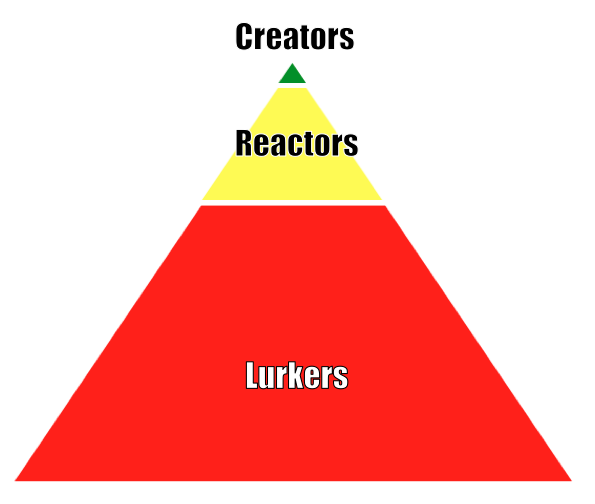 What's surprising (to me at least) is that many people still haven't caught on to this idea. They remain shocked and appalled that 90%+ of Yelp reviews come from 1% of users. They use low activity (defined as contributing) on services like Twitter and Google+ to argue that they're not viable.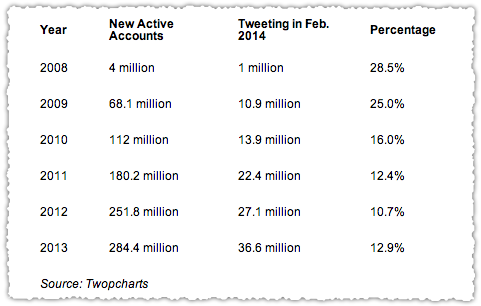 Now what type of person do you think was more likely to sign up and use Twitter back in 2008?  Lurker, reactor or creator? Give yourself a gold star if you answered creator. And that's why the percentage still Tweeting from those years is higher. As the service became more mainstream, more lurkers joined the service.
And that's okay!
Trying to 'fix' participation inequality is a losing battle against human nature. Most people simply aren't going to create content for a wide variety of reasons. Sure, technology may slide the percentages a small amount but material changes to this dynamic won't happen.
Creators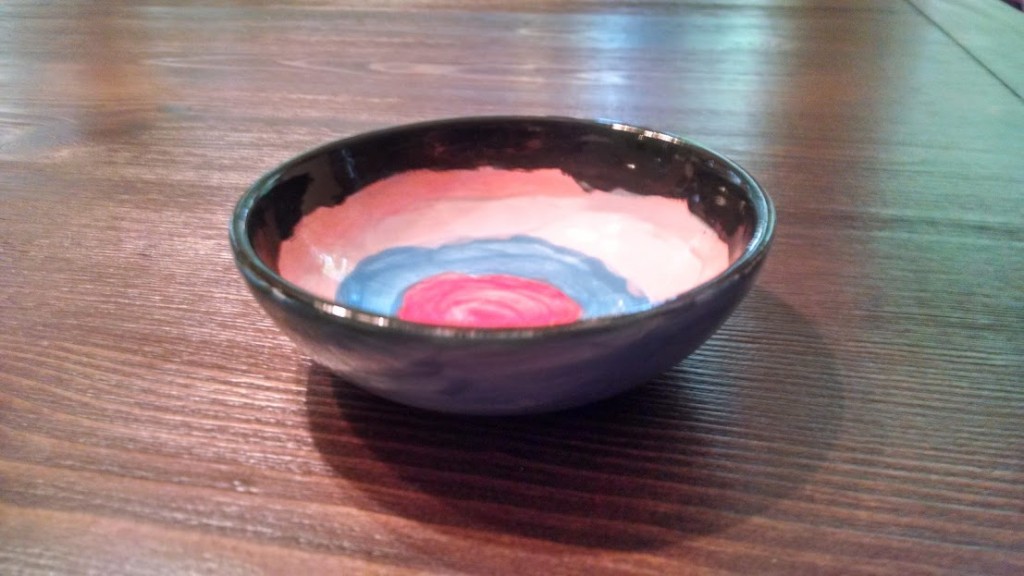 If creators are responsible for nearly all of the content we consume, that makes them … pretty powerful. I dare say, you might call them influencers. Now, I don't particularly like that term but there's a certain amount of truth in it.
The sad thing is that most of the 'influencer outreach' content I've seen talks about how to identify (zzzzzz) and email these people or ways to interact with them on Twitter. I suppose that can work once in a while but the odds of securing their attention in these ways is limited and inefficient.
People continue to do this type of outreach because of the huge upside in gaining the attention of a creator. Creators often have a large audience so a mention or link in the content they create can provide a real boost to your brand and authority.
If you didn't put the pieces together already, creators power the link graph.
Attention
Attention is at a premium and it's your job to win the attention auction as many times as you can. It's even more important to win the attention of creators. Yet, creators may have a more limited amount of attention to give. Why? They're busy creating content! Seriously, it takes time (and lots of it) if you're doing it right.
Not only that but if they're a successful creator, the demands on their time increase. They get more email, more requests, more clients.
So how do you get the attention of a creator? Funny thing, there's actually a really easy way to hack the attention of a creator. That's right. Blog commenting.
You know that creators are going to be paying attention to the comments on their content. They worked hard to produce it and they're looking to see how it's received. Make no mistake, creators thrive on feedback and validation.
Creators hang out in the comments section. So take advantage of the implicit focus creators have on comments.
Blog Commenting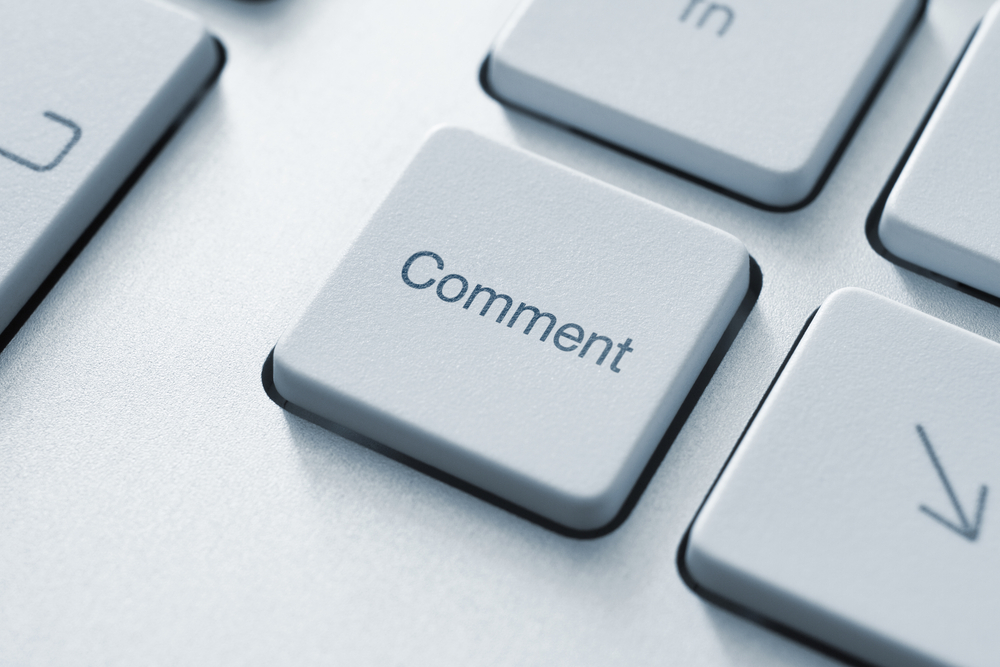 The problem with blog commenting is that most people suck at it. I'm not even talking about the cesspool of comments that often overwhelms YouTube videos or the comment spam with their ever present and overly complimentary prose clogging up moderation queues.
Commenting is your chance to get the undivided attention of that creator, if only for a few seconds as they determine whether the comment is interesting.
"Nice post. Very helpful."
Is that comment interesting? Nope. Is it memorable? Nope. Comments like this do absolutely nothing for you. In fact, if a creator associates you with these types of moronic bland comments, you reduce your chances of securing their attention in the future.
Remember, attention is a habit. You figure out which people are worthy of your attention and which are not. The more times I choose not to pay attention to you, the more likely I am to do that in the future.
When you comment, your job is to add value to that content. That means you come with an opinion and point of view. You come with other related content that you'll link to in your comment. Those links should not always be to your own site. No one likes the person who always talks about me, me, me.
Most creators want a reaction. They want a debate. They want a conversation. They want to learn. They want to be challenged. They want to be mentally stimulated.
Who Is This Person?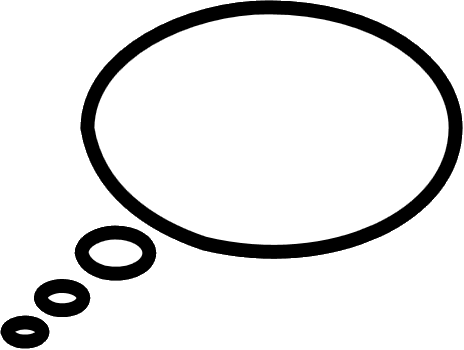 If you've done your job right and provided a comment that engages the creator, a thought bubble should appear over their head reading 'who is this person?'
At that point they're clicking on the links in your comment or on the 'site' link you provided in the comment meta that's on nearly every comment platform.
A good comment gets a creator curious about that person.
They click around and do some research. Maybe you have a blog yourself and they read your latest post (or more). Maybe they like it enough they add it to their RSS reader or they find your Twitter handle and follow you there.
Of course this means you need those exploratory clicks to land somewhere that showcases your brand. Don't make the mistake of leaving a great comment and then have the creator come through to a site that hasn't been updated in over a year or a half-ass product page with a broken image.
If you've engaged the creator enough to garner more attention, don't squander it with poor content assets.
Putting It All Together
I've been wanting to write this post for a few months but it wasn't until I bumped into Larry Kim (who is a great guy) at SMX West that everything fell into place. I was chatting with Larry about this topic and he gave me a perfect example of the power of blog commenting in practice.
On February 25th the talented Elisa Gabbert compiled the opinions of SEO experts on the 'dwindling value of links' (bollocks, but that's another story.)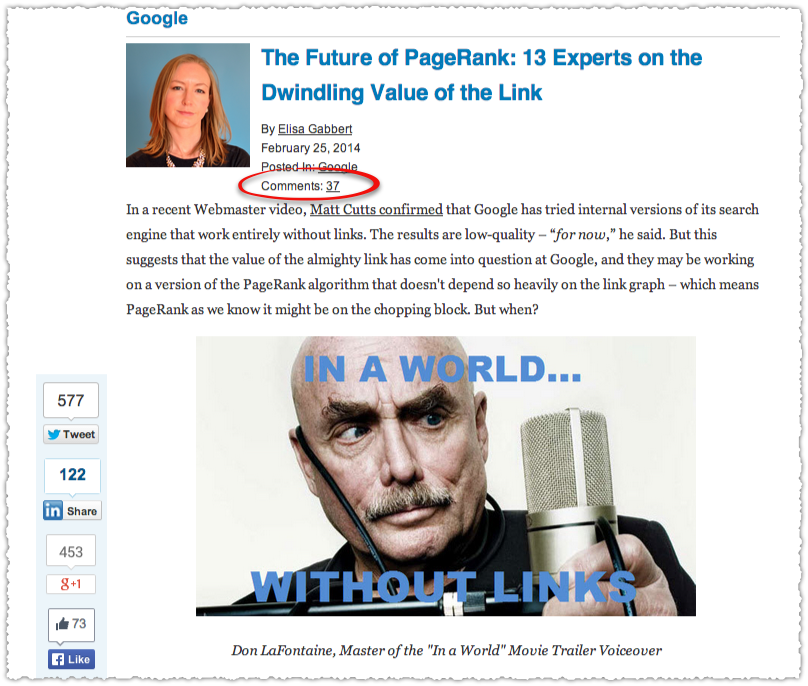 The post was popular and garnered 37 comments, many from other notable creators. One of those was a very comprehensive comment by Russ Jones from Virante.
On February 28th (three days later) the indomitable Rand Fishkin released a Whiteboard Friday video that not only linked to the Wordstream post but referenced comments by Russ Jones.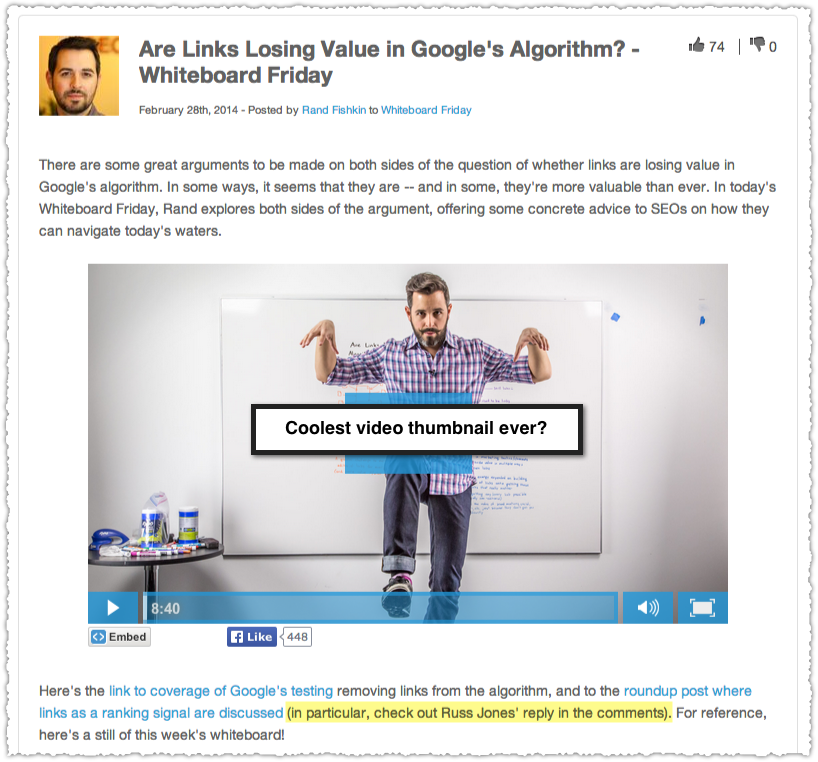 And if you watch the video or read the transcript it's crystal clear that Rand has read the comments. Heck, he uses them as the basis for a material amount of this video! It might have been nice if Moz had also linked to Virante but c'est la vie.
Do you see what just happened here!? Have I convinced you how powerful blog commenting can be in getting the attention of creators? That those creators can then provide your brand, site or product exposure by including them in their content.
But … Reasons Excuses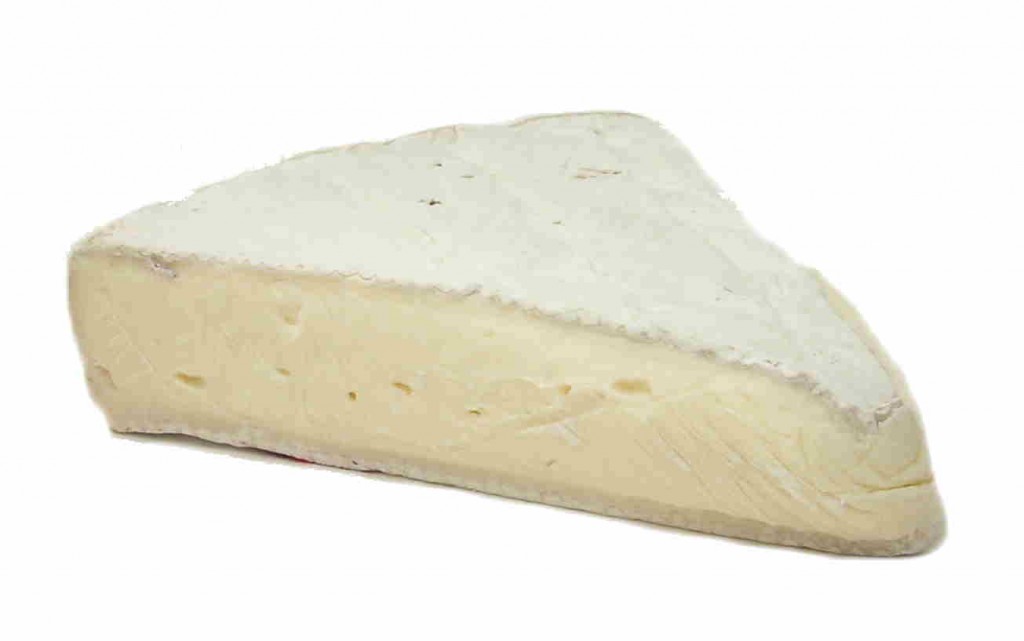 I know some of you are going to complain that blog commenting like this is too time consuming. Oh? Can I offer you some cheese for that whine?
Seriously! There are few better ways to interact with creators. Not every one will result in a mention or link in three days time but done right you're going to build your expertise and authority with the 'right' people.
Would you rather send out a bunch of email pitches to influencers which are essentially interruptions and attacks on their attention or instead build lasting content assets (comments my friend) while gaining exposure with said influencers? Choose wisely.
Others are rightly frustrated with comment censorship, both human and algorithmic (i.e. – spam filters). But the answer is not to remove comments (and chase away creators) but to figure out a better way to have these discussions.
TL;DR
A small amount of creators are responsible for the vast majority of the content we consume. They have a limited amount of attention yet wield a lot of influence through their ability to reference sites, products, brands or content in the content they produce.
Creators hangout in (aka devote their attention to) the comments section of their content and that of others. Thus, memorable blog comments that provoke creator curiosity (and clicks) build your authority and improve your chances of gaining a mention or link in their content in the future.
The Next Post: Social Signals and SEO
The Previous Post: SEO Is Stone Soup