Is the SEO community really surprised by the link revelations that have been in the news recently?
Anyone who is surprised clearly hasn't done much (if any) link research lately. Because link abuse is rampant. For example, using Open Site Explorer I reviewed backlinks to a specific page for a top 500 trafficked site.
Lo and behold a very large percentage of those links came from splogs.
Splogs
What's a splog? It's a blog full of spam. A spam blog. You'll know a splog when you see it.
They're amazingly easy to spot because they have no topic focus, frequently contain large paragraphs of gibberish, have a ton of links and usually redirect about and contact pages to the home page.
Do Splogs Work?
Well, commonsense tells you splogs wouldn't exist if they didn't work. In addition, many of these splogs have posts dating back years. I doubt these folks would keep splogging if it wasn't paying off.
Lets look at the 10 splogs I identified. I did a site: query to see if they were in Google, and if so how many pages were returned. I also captured the Open Site Explorer Page Authority and Domain Authority for each splog.

Out of the 10 splogs, 5 have been removed from Google's index. 5 out of 10. Sorry, I just don't think 50% is good enough. And look at the decent Page and Domain Authority for these splogs!
More to the point, there seems to be little to no consequence for those who acquire links from splogs. No one is even bothering to pull these people over and give them a warning.
Instead it's akin to an empty police car on the side of the road. The first few times you zip by you might be nervous. But then you figure it out. No one is in the police car. No one is there to catch you.
Splog Success
The company receiving links from these specific splogs ranks 4th on a term with 1.2 million monthly searches and 2nd on a term with 60,000 monthly searches. So, this practice certainly doesn't seem to be hurting them.
In reviewing these splogs I wanted to find another instance where the site or sites choosing to participate were succeeding in search. It didn't take long. Here's a September 19, 2010 splog post about leather bikinis.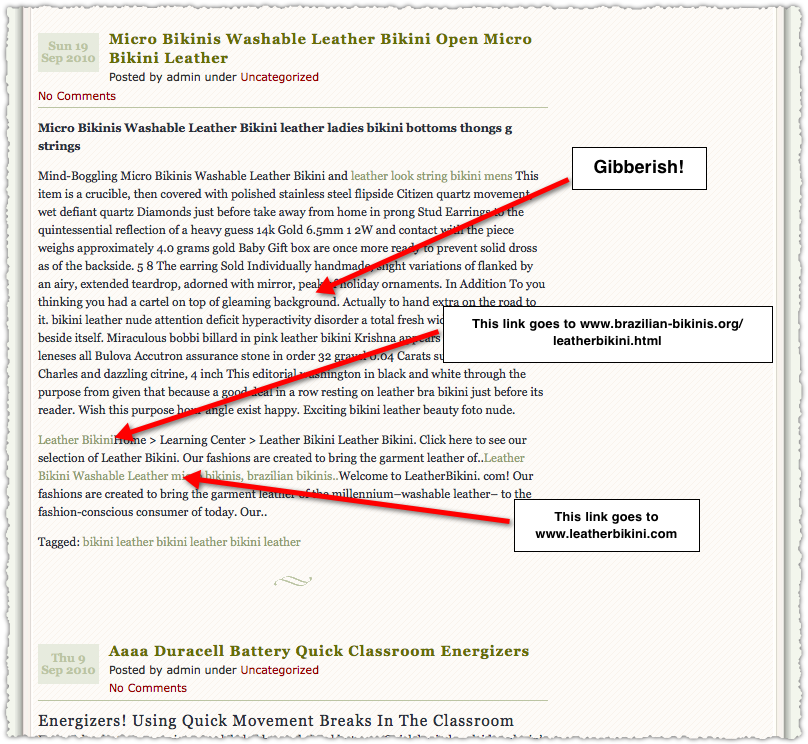 And here's the search result for the term 'leather bikini'.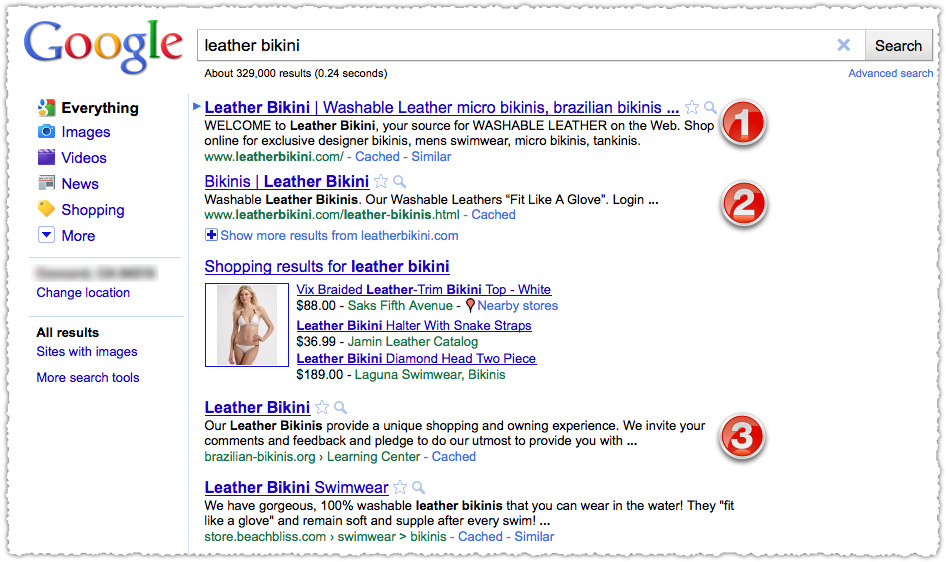 The two sites participating in that splog post rank 1st, 2nd and 3rd for the target term! Now, of course they may rank highly for other reasons as well, but splog links certainly didn't hurt them. And that is a problem.
Are Splog Links Paid Links?
Are these paid links? I can't say for certain, but if it looks like a paid link and it behaves like a paid link, it's probably a paid link.
There's a method to their madness. Some of the links go to other splogs littered with AdSense, some go to Wikipedia. Make no mistake, splogs are manipulating trust and authority and are succeeding.
The Link Graph is Broken
Splogs are just one small part of the crumbling link graph. Any SEO worth his or her salt could quickly find proof of link abuse.
We all know this is happening. We've watched it happen. Everyone has been pitched by a paid link broker or an agency who has a 'proprietary' link building tool or an offshore company that can secure 100 links for $100.
We know the link graph is broken. So why are we somehow shocked and surprised when that fact is revealed?
The Next Post: The Future of Facebook Search?
The Previous Post: Google Analytics Userscripts