If you're familiar with the science fiction classic you know the phrase is actually Soylent Green is People. With some substitution logic the equation boils down to the following:
People = Filters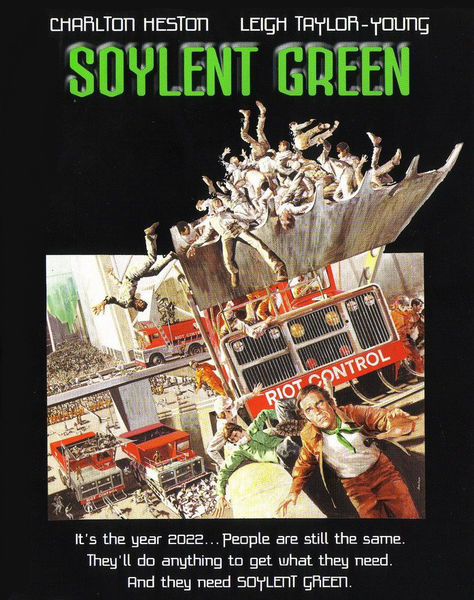 Everyone is looking for technology that will help them filter the amazing amount of data that pours in through social sites like Twitter and FriendFeed. Yet many overlook the first and best filter – people.
The people you follow on Twitter and those you subscribe to on FriendFeed remain the most powerful filter you have at your disposal.
Follow Abuse
On Twitter you'll have a dreadful time finding anything useful if you're following a lot of people. Even if they're all tweeting high value material (which is unlikely) you'll miss a lot of it. In addition, a fair portion of it will likely be repetitive.
Twitter search isn't much help and hashtags are a useful but flawed solution. I don't rely on Twitter to get my information so I break my own rules here.
Subscribe Abuse
On FriendFeed the people you subscribe to are even more important because of the Friend of a Friend (FoaF) feature. I see people I am not subscribed to through the Likes and Comments of my subscriptions. I believe FoaF is the most valuable feature on FriendFeed.
I let Robert Scoble, Louis Gray, Rob Diana, Mike Fruchter, Thomas Hawk, Chris Baskind, Ken Sheppardson, Mike "Glemak" Dunn, FFing Enigma (aka Tina), Cee Bee and others bring great people into my feed.
There are many people who I regularly enjoy to whom I'm not subscribed. This isn't because I don't appreciate them, but because I see their contributions regularly as it is. My subscriptions are not always based on my appreciation of their content (though that helps) but often their ability to find and filter content.
I don't use subscriptions as a form of popularity.
The Hard Truth
Some people have great content, but they're not always the best filter of content. Some people have a lot of content but not all of it might be interesting – to me at least. So I experiment. I subscribe judiciously and see what it does to my worldview.
I currently keep my subscription count close to Dunbar's number so my interaction on FriendFeed is truly social and not asocial.
Beyond People
FriendFeed has done a very good job of providing additional ways to filter the enormous amount of data available. Their list functionality can be used to apply additional subscriptions to a particular area. So, I could have a list of SEO gurus, another of economics folks and another of bicycling enthusiasts.
The most recent upgrade also included powerful saved search functionality, giving us yet another way to digest the data and turn it into information. This is particularly important because you get the information you want, instead of all the data from someone you've put into a list.
I'm a prime example of this problem. I feed a good deal of SEO, marketing and advertising material. Yet, I also feed books, bicycling, economics, art, humor and the dreaded lolcats. People rarely fit into neat tidy boxes.
People First
Even with all these great new tools the first, best line of filtering is people. It's the way we'll survive the social media chaos.
Soylent Green is People.
The Next Post: Google Reader Recommendations Gone Wild
The Previous Post: SEO 101: Dashes or Underscores?