This is not a 'SEO is Dead' post. Let me make that clear from the beginning. But SEO is going to get tougher, not because of the Panda update or anything else Google may implement but because search volume growth is decelerating.
SEO Drafting
The SEO industry has had the wind at its back as search volume soared month after month and year after year. Some might say it was pretty tough not to fall into success.
That's not to say there wasn't a lot of good SEO going on. But if you were posting 25% yearly SEO growth were you really being effective? Shouldn't SEO growth be normalized based on search volume trends?
Search Volume Trends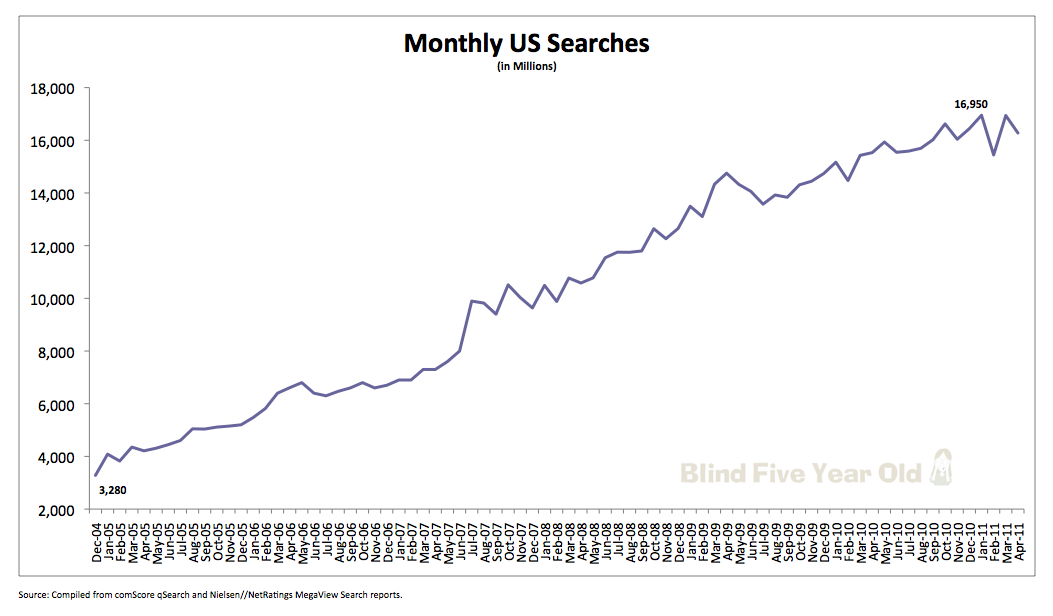 This graph measures explicit monthly US searches from December of 2004 to April 2011 using a mix of comScore qSearch and Nielsen//NetRatings MegaView Search reports. In that time the number of monthly searches has risen from 3.3 billion to 16.9 billion.
Search Volume Growth
To some the trend might look rosy. But look closer. Using December search volume as a benchmark, the year over year (YoY) growth in search volume is decelerating.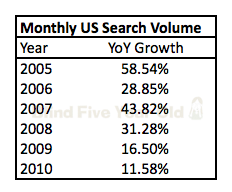 The YoY growth in 2011 could be in the single digits. Of course you could drill down into specific category (even keyword) search growth, but I believe this is a macro level trend based on demographics.
Search Adoption
When I debated the definition of search quality, I mapped out daily search usage against the innovation curve. In May of 2010 79% of American adults were online and 87% used a search engine to find information.
If you do the math you find that approximately 165 million American adults or 69% of the total adult population now use search.

That puts us a little more than half way through the Late Majority, and that was a full year ago.
SEO Shakeout
Recently the SEO industry has grappled with the idea of standards or certifications and differed on 'outing' SEO companies who violate search engine guidelines. The industry is maturing, but I wonder if we're missing the bigger picture.
That gale force tailwind we once had is now a gentle breeze. Decelerating search volume growth will squeeze mediocre SEO out of our industry.
It will push us all to up our game, to evolve and specialize. The free ride is nearly over, it's time to put up or shut up.
The Next Post: Yahoo Email Hacked
The Previous Post: Translating Panda Questions