That awkward moment when you realize you've been staring at interesting data for years without knowing it.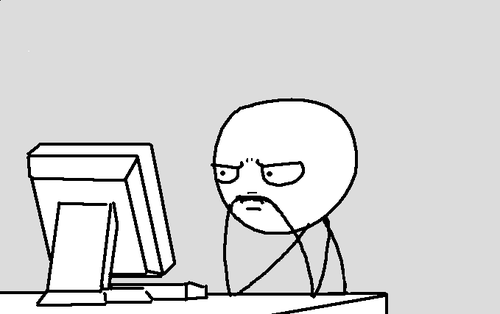 Every day you're probably using Google Keyword Tool query volume in your SEO research. Of course you have to be careful to use the correct match type, right? You don't want to make the mistake of promising broad match level volume to a client.
Recently I began to wonder about the differences in match type volume. Because they are substantial.
Keyword Match Ratio
What am I talking about? The keyword match ratio is the broad match volume of a keyword divided by the exact match volume of a keyword.

I know these are completely different keywords but the difference is pretty astounding. This metric should be meaningful. It's not some end-all-to-be-all metric, but I believe the keyword match ratio is useful.
Here's how I've been looking at and using the keyword match ratio.
Determining Intent
One of the main ways I've been using this new metric is in determining intent. Or, more specifically, is the intent uniform or fractured?
A low keyword match ratio indicates a more uniform syntax which often maps to uniform intent. In other words, there aren't as many keyword variations of that term or topic. Uniform intent is great from a search perspective because you can more easily deliver a relevant and valuable experience for that traffic.
A high keyword match ratio indicates a less uniform syntax which may indicate fractured intent. That means there might be a lot of ways to talk about that topic or could point to a whole modifier class. Fractured intent is more difficult to satisfy since users may come with different expectations of value.
Unfortunately, determining intent got more difficult when Google reduced the level of category detail during the merge of Google Trends and Google Insights for Search.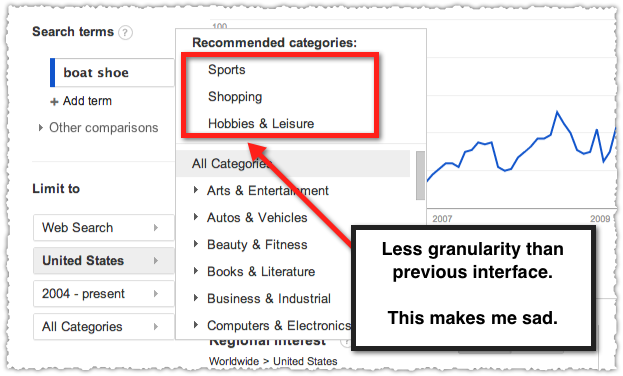 You can still see that there's potential fractured intent here but the old version would have presented the various percentage breakdowns for each category which was quite useful. Keyword match ratio provides a new way to validate whether you should be concerned about fractured intent.
Identifying Content Opportunities
The other way I've been using the keyword match ratio is to identify areas ripe for content creation. In this case, a high keyword match ratio indicates a potential for different modifiers and phrases for that keyword.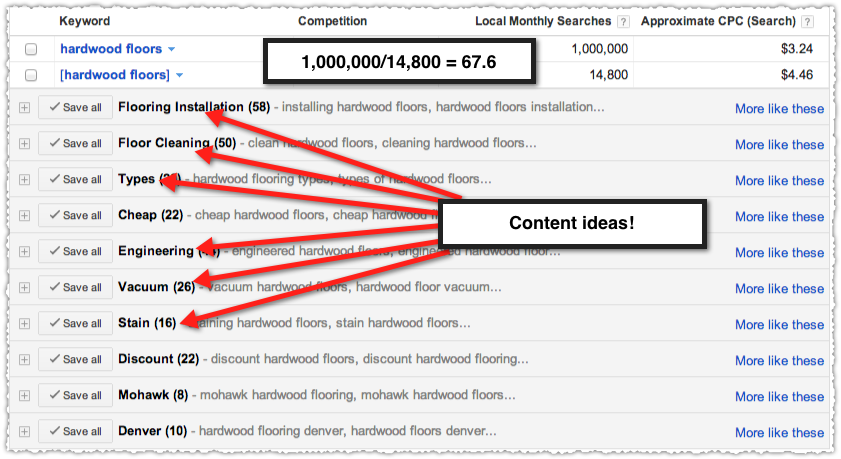 The term 'hardwood floors' has a pretty high keyword match ratio and even the suggested ad groups provide ample content ideas. Go a step further and use related searches and Google Autocomplete suggestions to get more ideas that match query syntax.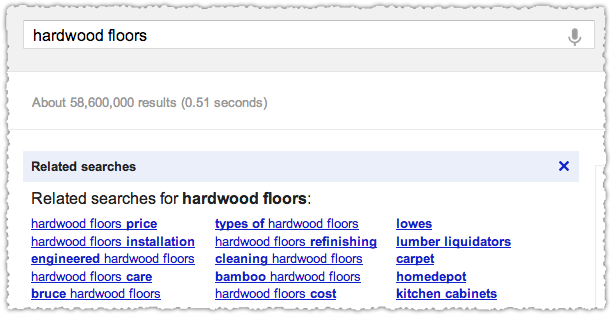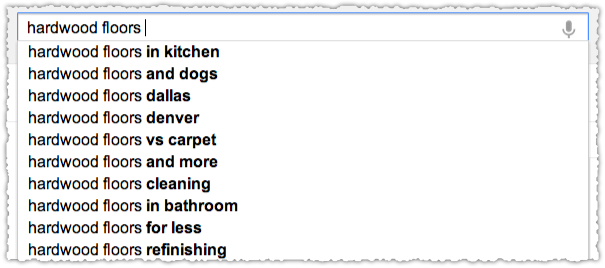 Look at all those content opportunities! Follow high keyword match ratios to uncover content ideas and opportunities.
Benchmarking
While I can usually just tell whether a keyword match ratio is high or low, or simply compare it to other keywords in a list, I wondered if I could create a benchmark. Enter Dr. Pete, who was kind enough to share the 1,000 keywords that comprise MozCast. (Thank you.)
The first thing I did was see how the keyword match ratio changed with query length.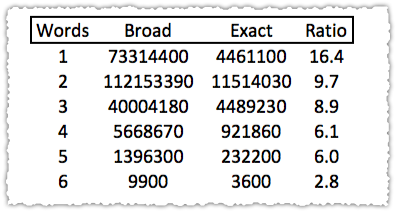 As you might expect, the ratio declines as the number of words in the query increase. I like when things make sense! What this allows me to do is identify specific keywords that are materially outside of the norm.
What about the 2 word query with a ratio of 226.3 or the 2 word query with a ratio of 2.2. The ratio tells you something about the behavior of that keyword. It's your job to figure out what it is.
Competition
My next idea was to map the ratio to keyword difficulty. I experimented with using the competition number via the Google Keyword Tool as a proxy but the numbers were all over the place.
So … I generated the keyword difficulty for 92% of the list five painstaking keywords at a time via the SEOmoz Keyword Difficulty Tool. (There's a 300 a day limit so I didn't quite get through the entire list.)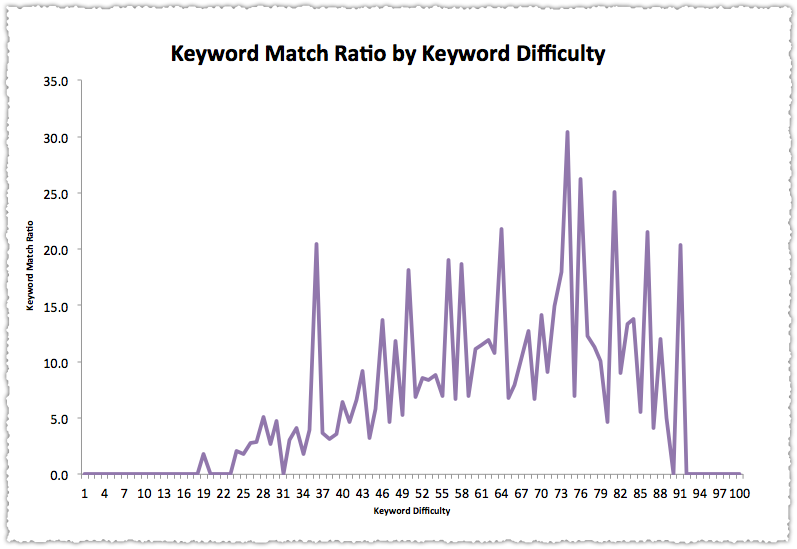 There might be a trend there but it was difficult to tell with all the noise. So I rounded keyword difficulty into deciles.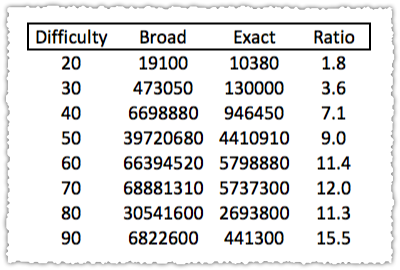 No terms fit into the 0, 10 or 100 deciles so I removed those rows from the table. What's left does seem to indicate a rising keyword match ratio with increased keyword difficulty. That's interesting and makes a bit of sense too. Competitive terms often have more volume and likely have a greater number of variants.
Putting It All Together
The question is how you can use all of this information together? To be honest, I haven't come up with the perfect formula but I find it interesting to take terms and see where they fall against these benchmarks.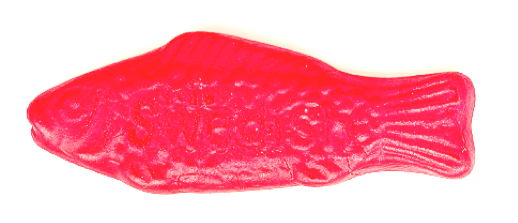 What about the term 'swedish fish'? This 2 word keyword has a keyword match ratio of 3.3, well below the 2 word benchmark. In addition, with a 41% keyword difficulty it falls into the 40 bucket, which again puts it below the standard keyword match ratio for that difficulty.
That tells me the intent behind the term 'swedish fish' is uniform and it might be an area where a well optimized piece of content could rank well. Yum!
A term with a low keyword match ratio and low competition is a great SEO opportunity.
The syntax and intent are clear and you can provide relevant and useful content to fill that need. Of course, all of this has to produce productive traffic. We're not doing SEO just for gold stars and pats on the back, right?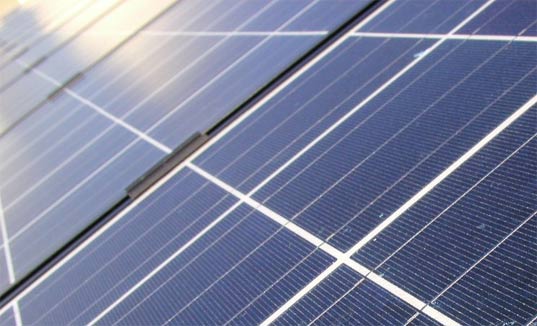 What about a term like 'solar panels'? It has a keyword match ratio of 13.5, above the 2 word benchmark. With a keyword difficulty of 70% it also scores slightly over the average.
That tells me optimizing for 'solar panels' is going to be a hot mess. Instead, I'd want to look for phrases and modifiers that might be more attractive instead, with the long-term goal of building up to this head term.
Locate the specific intents and keywords that contribute to a high keyword match ratio and produce relevant content that satisfies and engages.
Context, Brains and Disclaimers
A couple of things you should know about the keyword match ratio. You need to use it in conjunction with other tools, in particular your brain. Context is important and different verticals and modifiers will have different keyword match ratio patterns.
So while I provide the benchmarks above you should be thinking about how the ratio fits into the keyword universe for your site, or for that particular modifier. If you were a coupon site you might want to see which store + coupons terms had the highest and lowest keyword match ratio.
There's also the possibility that the set of data I used for the benchmark isn't representative. However, I think Dr. Pete has done a pretty good job here and while some of the terms are strange and mundane that's not a bad reflection of reality.
You'll also note that I'm not doing any heavy duty statistical analysis here. While I understand and enjoy those endeavors I think pattern recognition can take you pretty far pretty quickly. Maybe someone else can pick up this thread and create something more statistically valid.
In the interim, I'm using the keyword match ratio as an SEO hack to help me find potential diamonds in the rough and areas for content creation.
TL;DR
The keyword match ratio measures the ratio of broad match volume and exact match volume. This metric is not fool proof. You need to use your brain when looking at it. But if you've got a good head on your shoulders the keyword match ratio can help you determine intent and sniff out content opportunities.
The Next Post: Twitter Will Win The Social Brand Advertising War
The Previous Post: Reading May Influence AuthorRank