Everyone wants to know how Google Instant is changing search.
There's been some great analysis on whether Google Instant has changed keyword length. While auto complete could certainly have an impact on query behavior, the impact so far seems to be negligible.
I've been more interested in whether Google Instant would change assessment behavior. I theorized that Google Instant might result in more clicks above the fold because users would become focused on watching – and assessing – search results as they typed.
Google Instant Rank Analysis
Each week I measure the amount of traffic produced by each rank via Google Analytics. Using this data across two large sites from different verticals, I'm able to compare traffic by rank the week prior to Google Instant's launch versus the most recent week.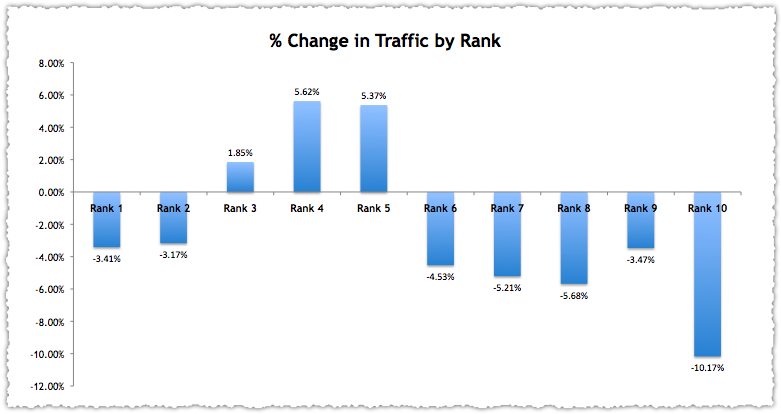 The distribution of traffic by rank certainly seems different. But there's a good deal of noise in pulling this data.
First, while the volume of searches is high the number of data sources is low.
Second, the number of terms driving traffic at each rank and the query volume for those terms may have changed. (However, a quick analysis shows that the number of terms doesn't have a bearing on the data.)
Lastly, the Google Analytics rank hack only captures a certain percentage of traffic where the 'cd' parameter is passed. Historically that was about 20% to 25% of search results. However, just prior to the launch of Google Instant that percentage shot up to ~40%. The subsequent weeks of decline in 'ranked' traffic don't map to overall traffic patters, so I believe the amount of traffic with a 'cd' parameter has likely decreased.
Long story short, the variation by rank is the signal, not the actual changes in rank.
Google Instant Click Distribution
Has Google Instant changed the distribution of clicks by rank? If above the fold ranks are getting a higher distribution of clicks, SEO is not dead – its become more important than ever.
But what about the odd behavior of those with a rank of 1 or 2? Could paid search or Onebox presentations be sucking away traffic from the first and second positions?
Google Webmaster Tools should be able to provide some additional insight. Yet, as I was performing the analysis I came to realize that the search queries report in Google Webmaster Tools has less coverage (5% to 15%) then the Google Analytics rank hack (20% to 40%).
Furthermore, the coverage in Google Webmaster Tools is weighted by rank, with (far) higher visibility for higher ranks. I'm not sure analysis on lower ranks is reliable given the thin data set. However, I do see appreciable declines in CTR for both the first and second positions. This seems to support the data gleaned from Google Analytics.
Above The Fold SEO
If the distribution of clicks is changing, being above the fold could become increasingly important. Earlier this year Jakob Nielsen conducted a study that showed that users spend 80% of their time and attention above the fold.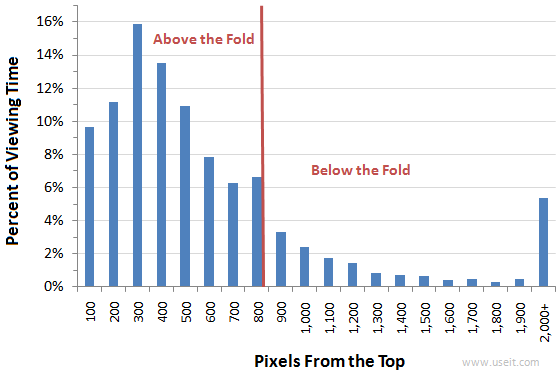 Lets be clear, the prerequisite is that the user scrolls. Does Google Instant disrupt the natural inclination to scroll? I say yes, and I think the preliminary data points in that direction.
Eye tracking studies have already shown the difference in assessing informational versus transactional queries. I'd like to see these studies performed using Google Instant to determine if those patterns have changed.
Baring that, I'd like to expand my data set and appeal to others who have Google Analytics rank data to perform the same analysis. Do it yourself and post the results or send me the data and I'll aggregate it with my current data set.
Either way, I believe it's important to understand how search behavior may be changing and adapt accordingly.
The Next Post: Facebook SEO
The Previous Post: Google Analytics Default Profile