Images are an increasingly important part of the Internet landscape. Yet marketers are provided very little in the way of reliable metrics to allow us to understand their power and optimize accordingly. This is doubly strange given the huge amount of research going on regarding images within search engine giants such as Google.
Image Tracking In Google Analytics
There is none. Or at least there is no image search tracking in Google Analytics unless you create filters based on referrers. I wrote about how to track image search in Google Analytics in March of 2013 and updated that post in April of 2014.
The problem with this method is that it is decreasing in usefulness. I still use it and recommend it because some visibility is better than none. But when Chrome removed the referrer completely from these clicks earlier this year it really hurt the accuracy of the filter.
Who cares you might be asking. I care because image search intent and the resulting user behavior is often wildly different than web search.

The users coming to the site above via web search have vastly different behavior metrics than those coming from image search. I've highlighted the dramatic pages per visit and time on site metrics. Shouldn't we be building user stories and personas round this type of user?
For a while I explained away the reasons for not providing image search tracking in Google Analytics under the umbrella of privacy. I understand that Google was pretty much forced to move to 'not provided' because of lawsuits, Gaos v. Google Inc. in particular. I get it.
But I'm with Chris Messina. Privacy shouldn't be a four letter word. And the one company who has the best chance of changing the conversation about it is Google. But let's not go down the privacy rabbit hole. Because we don't have to.
Right now Google Analytics provides other data on how people search. They break things down by mobile or tablet. We can even get down to the device level.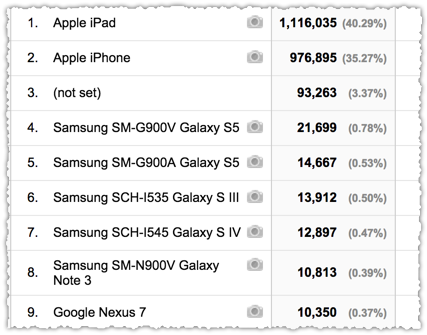 Are we really saying that knowing the user came in via image search is more identifiable than what device they were using? They simply explain different meta data on how a user searched.
Furthermore, on both web and image search I can still drill down and see what page they landed on. In both instances I can make some inferences on what term was used to get them to that page.
There is no inherent additional data being revealed by providing image search as a source.
Image Clicks in Google Webmaster Tools
I wouldn't be as frothed up about this if it was just Google Analytics. Because I actually like Google Analytics a lot and like the people behind it even more.
But then we've got to deal with Google Webmaster Tools data on top and that's an even bigger mess. First let's talk about the dark pattern where when you look at your search queries data it automatically applies the Web filter. #notcool

I'm sure there's an argument that it's prominent enough and might even draw the user's attention. I could be persuaded. But defaults are dangerous. I'd hazard there are plenty of folks who don't even know that you can see this data with other filters.
And a funny thing happens with sites that have a lot of images (think eCommerce) when you look at this data. It doesn't make an ounce of sense.
What happens if I take a month's worth of image filtered data and a month's worth of web filtered data and then compare that to the actual data reported in Google Analytics?
Here's the web filtered data which is actually from November 16 to December 14. It shows 369,661 Clicks.

Now here the image filtered data from the same time frame. It shows 965,455 Clicks.

Now here's what Google Analytics reports for the same timeframe.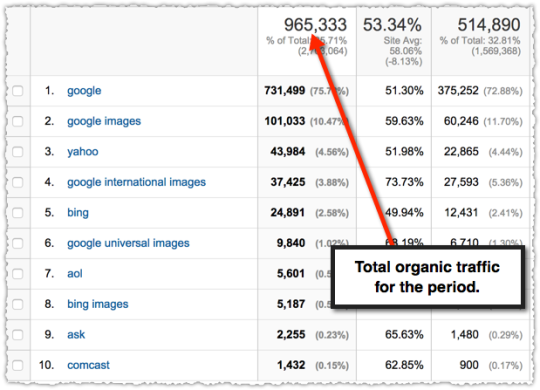 For those of you slow on the uptake, the image click data from Google Webmaster Tools is more than the entire organic search reported! Not just Google but organic search in total. Put web and image together and we're looking at 1.3 million according to Google Webmaster Tools.
I'm not even going to get into the ratio of image clicks versus web clicks and how they don't have any connection to reality when looking at the ratio in Google Analytics. Even taking the inaccuracy of the Google Analytics filters into account it points to one very clear truth.
The image click data in Google Webmaster Tools is wonky.
So that begs the question. What exactly is an image click? It doesn't seem to be limited to clicks from image search to that domain. So what does it include?
This blog is currently number three for the term 'cosmic cat' in image search (#proud) so I'll use that as an example.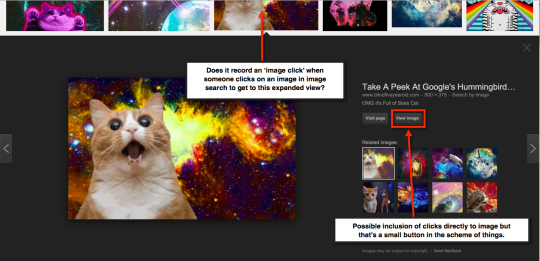 Do image clicks include clicks directly to the image, which are generally not on that domain and not counted in most traffic packages including Google Analytics? Maybe. But that would mean a lot of people were clicking on a fairly small button. Not impossible but I'd put it in the improbable bucket.
Or do image clicks include any time a user clicks to expand that image result? This makes more sense given what I'm seeing.
But that's lunacy. That's comparing apples to oranges. How does that help a marketer? How can we trust the data in Google Webmaster Tools when we encounter such inconsistencies.
Every webmaster should be inquiring about the definition of an image click.
The definition (of sorts) provided by Google in their support documentation doesn't help.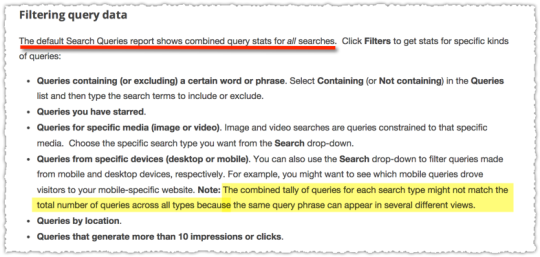 The first line is incorrect and reflects that this document hasn't been updated for some time. (You know, I hear care and attention to detail might be a quality signal these days.) There's a line under devices that might explain the image click bloat but it's not contained in that section and instead is attributed to devices.
Long story short, the documentation Google Webmaster Tools provides on this point isn't helpful. (As an aside, I'd be very interested in hearing from others who have made the comparison of image filter and web filter clicks to Google Analytics traffic.)
Images During HTTPS Conversion
These problems came to a head during a recent HTTP to HTTPS conversion. Soon after the conversion the client involved saw a decent decline in search traffic. Alarm bells went off and we all scrambled to figure out what was going on.
This particular client has a material amount of images so I took the chart data from both HTTP and HTTPS for web and image clicks and graphed them together.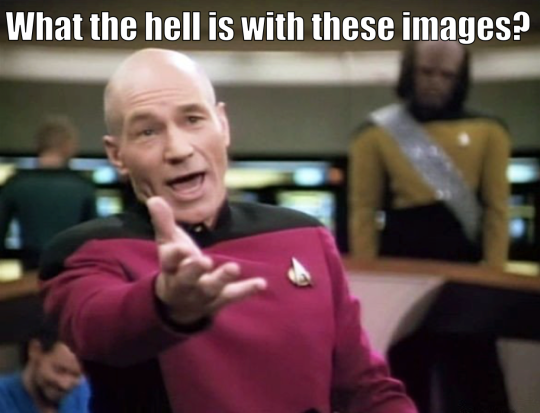 In doing so the culprit in the decline post conversion was clearly image traffic! Now, some of you might be thinking that this shows how the Google Webmaster Tools data is just fine. You're be wrong! The data there is still incorrect. It's just wrong consistently enough for me to track fluctuations. I'm glad I can do it but relying on consistently bad data isn't something I'm cheering about.
The conclusion here seems to be that it takes a long time to identify HTTPS images and match them to their new HTTPS pages. We're seeing traffic starting to return but it's slower than anyone would like. If Google wants sites to convert to HTTPS (which they do) then fixing this image search bottleneck should be a priority.
Image Blind?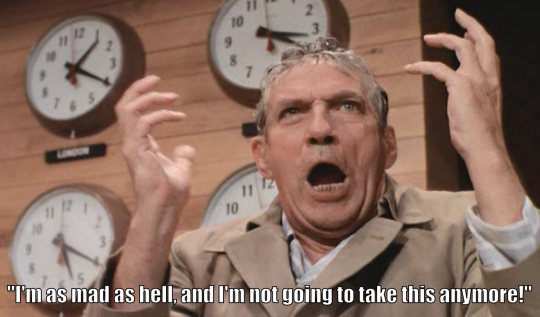 The real problem here is that I was blindsided due to my lack of visibility into image search. Figuring out what was going on took a fair amount of man hours because the metrics that would have told us what was going on weren't readily available.
Yet in another part of the Googleplex they're spending crazy amounts of time on image research.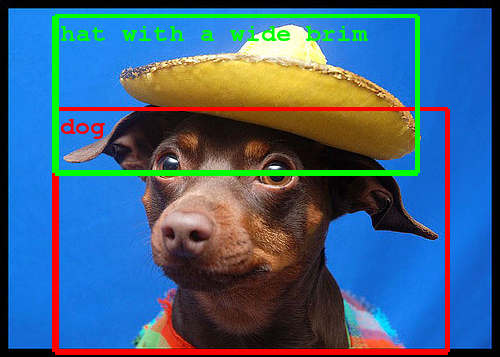 I mean, holy smokes Batman, that's some seriously cool work going on. But then I can't tell image search traffic from web search traffic in Google Analytics and the Google Webmaster Tools data often shows more 'image clicks' to a site than total organic traffic to the site in the same time period. #wtf
Even as Google is appropriately moving towards the viewable impressions metric for advertisers (pdf), we marketers can't make heads or tails of images, one of the most important elements on the web. This needs to change.
Marketers need data that they can both rely on and trust in to make fact based decisions.
TL;DR
Great research is being done by Google on images but they are failing marketers when it comes to image search metrics. The complete lack of visibility in Google Analytics coupled with ill defined image click data in Google Webmaster Tools leaves marketers in the dark for an increasingly important type of Internet content.
The Next Post: Google Autocomplete Query Personalization
The Previous Post: The Preference Bubble