I ask good questions. Really good questions. Even Matt Cutts says so.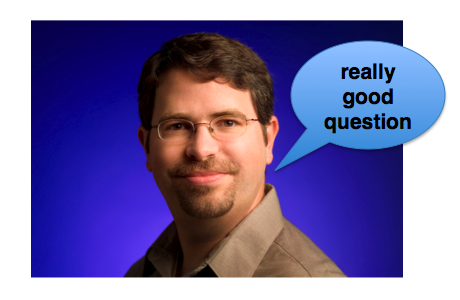 Best Question at SMX Advanced
The You&A with Matt Cutts at this year's SMX Advanced covered two main topics: Caffeine and May Day. After a humorous back-and-forth between Danny and Matt the public Q&A period started.
Danny asks about Caffeine update and HTML5. A "really good question," Matt says. Matt says HTML5 is completely unrelated to Caffeine, and Google doesn't give bonus points for code that validates. But Google does have an HTML parser in the wings.
That's my question! Proof will come with the video where Danny attributes the question to me by name. Not that it really matters, but it's nice to be acknowledged and get a pat on the back every once in a while. As an aside, the online submission form is a great way for introverts to interact.
Okay, it's probably not the best question, but maybe Gil Reich can add a new Best Questions category to his Best of SMX Advanced 2010 post.
Best SMX Advanced Session
Speaking of the best. The You&A with Matt Cutts was great but I walked away from Search Marketing in the Facebook Zone with actionable information and a renewed passion for paid search.
Dennis Yu from BlitzLocal shared real world campaigns and tips on getting the most from Facebook advertising. And Marty Weintraub from aimClear reminded me that figuring out a new platform is amazingly fun. Thank you.
SMX is the Best
Speaking of thanks. A big thank you to Danny Sullivan who has done a super job in providing the search industry with a valuable conference series and continues to be a great ambassador for the search community. See you next year.
The Next Post: Google's Heisenberg Problem
The Previous Post: Unlink at your own risk