Most of the time comment spam is pretty obvious, but every now and again you want to make certain you're trashing the right comments.
Google Your Comments
The fastest way to identify comment spam is to copy the comment and search for it on Google. Make sure to use quotes around the entire comment, which tells Google to look for the query in that exact order. If you get any results on the exact comment, it's most likely comment spam.
Here's one I received a few weeks ago.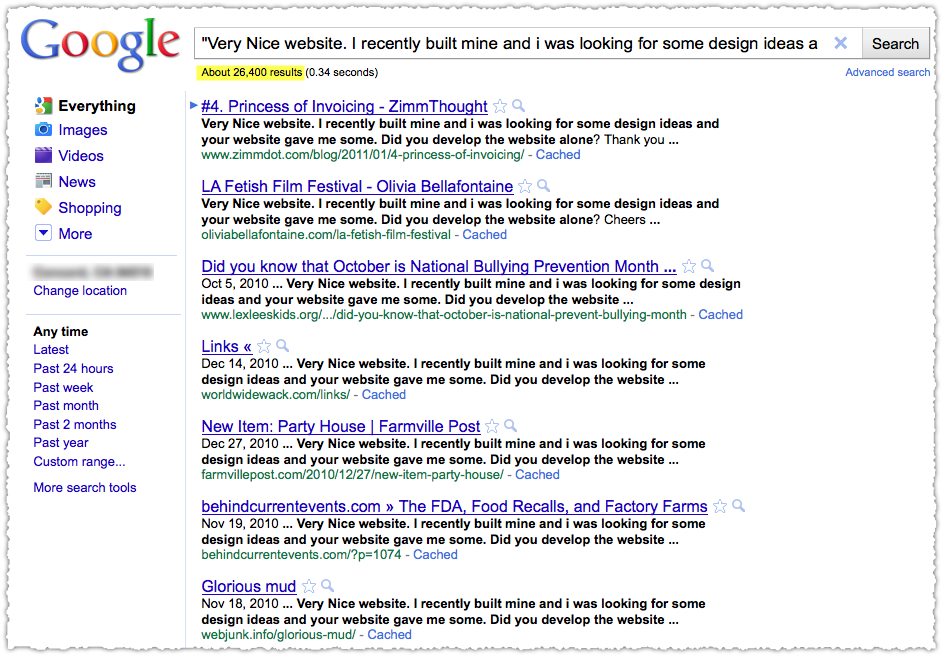 I've highlighted the fact that Google is returning about 26,400 results for this bit of comment spam.
Here's another I plucked off of another blog during my morning reading.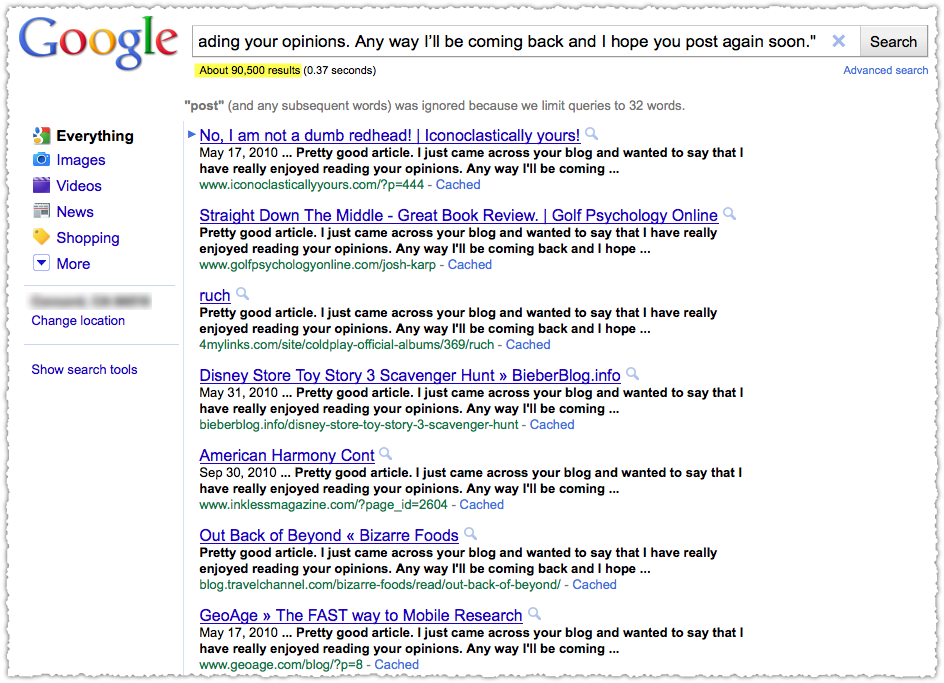 Two things to note here. First is that this technique still works even when you reach the 32 word query limit. Second, this gem returned about 90,500 results. (Is it just me or does the 'about' sort of sound like 'allegedly' in this instance?)
Comment Spam
This sad and pathetic practice gives SEO a bad name. I sometimes think a database of comment spam should be created. Who knows maybe it already exists.
I can think of a number of ways that it could be used to help sites rid itself of this parasite. Why couldn't Google alert owners (via Google Webmaster Tools) when it identified a comment that reached a certain spam threshold? Seeing the same comment even 100 times should be more than enough, never mind the 26K and 90K examples I've provided.
What about abandoned blogs or splogs where there is an abundance of comment spam? Couldn't a comment spam database help flag these sites and remove them from the index and link graph?
Of course it's more difficult than it sounds but wouldn't it be worth it?
The Next Post: Google Should Follow NoFollow Links
The Previous Post: Retailers Slow To Adopt Like Button