Overshadowed by the Google+ launch was the implementation of the rel=author markup in search results. Once implemented, authors are given a very prominent treatment on search results.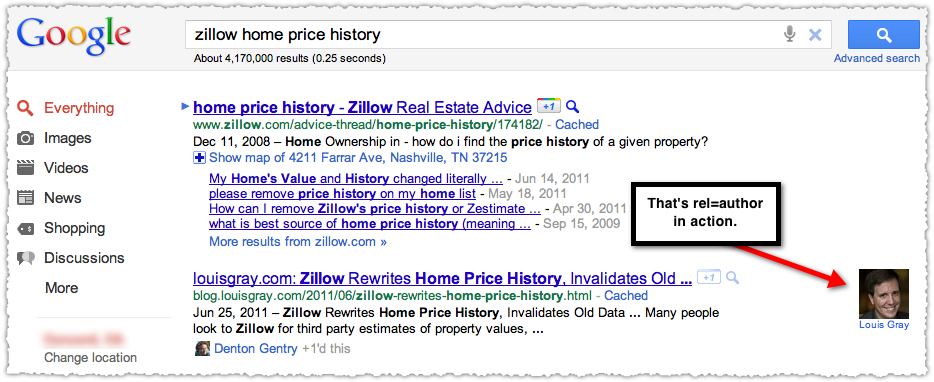 It doesn't reorder the results (yet) but it certainly highlights that result and likely drives a much higher click through rate. I was already interested in rel=author, but this was enough to get me off the proverbial couch and try it out myself.
Unfortunately the authorship directions provided by Google, while probably comprehensive, are confusing.
Thankfully, Louis Gray got me into Google+ and it was there that I put out the bat signal for a rel=author expert. Three Google employees quickly responded and set me straight on how exactly to implement rel=author.
A big thank you to Googlers Pierre Far, Daniel Dulitz and Jeremy Hylton for their assistance. Here's what I learned from them.
Three Link Monte
The TL;DR version for implementing rel="author" is that it requires three specific links.
A link from your blog post or article to your author page using rel="author"
A link from your author page to your Google profile page using rel="me"
A link from your Google profile page to your author page using rel="me"
Read on for specific directions on how to get rel="author" up and running on your own site or blog.
[Update 12/15/2011] While I still prefer the method described in this post, Google does allow you to verify authorship via an email address. Directions for this method can be found on the new Authorship home page.
Blog Post
The first link is from your blog post to an author page on the same domain. This is essentially a link that tells Google about the authorship of the posts on that domain. That's why you use rel="author" on this link. A blog with multiple authors will have multiple author pages, with the posts each author has written pointing to their own author page using rel="author".
But the author page does not have to be an actual author page. For a solo blogger, you can simply use your about page because that is about the author of the site.
Most templates will have the author of the post in the byline. This is where you want to place the rel="author" link.
Here's what I did. In WordPress I navigated to Appearance > Editor and then chose to edit my Single Post file. I then looked for the byline section and updated where it was going and added the rel="author" attribute.  (Use the quotes!)

Now every one of my posts will have a link in the byline from my name to my about page using the rel="author" attribute.
[Update] You can actually use the root domain as your author page if it a) has a link, using rel="me" to your Google profile and b) if it is not on a free host domain such as WordPress or Blogger. (Credit: @pedrodias)
Frankly, I think this makes it a bit more confusing but it is another option if you really don't have a true author or about page.
Author Page
The second link is from the author page to your Google profile page. This link tells Google that the author of that domain is the same person as the one in the Google profile. You're essentially claiming that Google profile as your own, which is why you use rel="me" on this link.
The best practice is to link to the base URL of your Google profile.
https://plus.google.com/115106448444522478339
This might be a bit confusing because the base URL will default to a /posts suffix. It is further complicated by the implementation of Google+ which changes the subdomain from profiles to plus.
Don't worry. If you're not using Google+ yet use your current Google profile URL. Google will put in the proper 301 redirect from the old profile to the new once you're using Google+.
[Update] Another way you can link to your Google profile is by creating a G+ button. Just make sure you select the 'author' option when generating the code and it will insert the rel="me" attribute. (Credit: @pedrodias)
Google Profile
The third link is from your Google profile to your author page. A link to your domain is not going to cut it.
Linking to the actual author page makes sense in light of multi-author sites and blogs. You might not be the author of all the content on that domain, but you want to show that you're the author of those few guest posts.

Go to your Google profile and select edit profile. Then click on the Links section and click Add custom link (it's at the bottom). Then enter your label and author page URL and make sure you check the 'This page is specifically about me.' box. That will put a rel="me" on this link.
Now you have a rel="me" attribute pointing from your Google profile to your author page. Add a link for each author page. This would include your own blog but also the author pages for any sites or blogs to which you've contributed content.
My OCD kicks in here since every other link I have is a very clean link to my places on the web. In the future I'm hoping Google could create a separate link list for these author pages.
[Update] Ask and you shall receive! Google has created a separate set of links labeled 'Contributor to' for authorship purposes. It is now recommended to use this section to complete the authorship loop.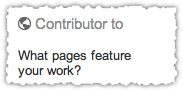 This new option is displayed when you edit links on your profile. The one major change here is that you'll no longer see the 'This page is specifically about me' box.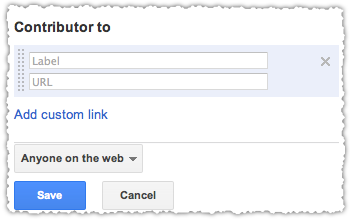 Link to your author page if you're using the three-link method, particularly for work on a multi-author site or blog. Link to the home page if you're using the two-link method which I haven't described here (yet). There is some indication that a home page link here might work for either method, but I'd err on the side of caution until that is confirmed.
How To Check Your Work
The last step is checking your work. To see if you've done everything correctly, run a sample blog post or article through the rich snippet testing tool. You can use my time saving Rich Snippets Testing Tool Bookmarklet for this task.
In my first attempt, I kept getting "verified = Author link is not verified."
What did that mean?
Was Google just waiting to verify the links? No. It meant I'd screwed up the implementation. This is what you want to see instead.

If this isn't what you're seeing go back and check your work again. A missed quote or placing it outside of the link element could be the culprit. In addition, you will not see the author image in the tool. Nor will you see the image immediately in search results. That might be disconcerting but it's expected and nothing to worry about.
[Update] There's been some chatter about whether you need to submit your site via Authorship Request Form or Rich Snippets Interest Form to enable rel="author".
The answer is NO. Here's what Google Webmaster Trends Analyst John Mueller confirmed.
We will pick up the authorship information automatically as we recrawl and reindex the pages involved, but this can take a bit of time until it's visible. You do not need to submit either of these forms for authorship information. That said, the form linked from the help center article is useful to fill out, since it gives our team a contact person on your side should we notice something amiss with the markup on your side.
[Update] Google Product Manager Sagar Kamdar reports that there is a bug in the Rich Snippet Testing Tool for those trying to verify authorship mark-up, particularly for those using the alternate two-link method. This method can be used for blogs with one author and entails a rel="author" link from the home page to the Google Profile with a rel="me" link from the Google Profile back to the home page.
The bug means that you'll get a negative response even when you've set it up properly. Google is working quickly to fix this bug, hoping to have it deployed by next week.
I'll update this post once more when I know how long it takes between implementation and having the profile image displayed in search results.
[Update] On July 7th, about one week after I implemented rel="author" on this blog, my smiling mug is being displayed on Google search results. (Thanks to the JoshMeister for the heads up.)

The week between implementation and display is only for those URLs that have been recrawled recently. So this post, and my recent Google+ review both have rel="author" display but an older post on SEO and UX does not. To be clear, it's not about the age of the URL, it's simply what Google is crawling again. I have older posts, such as my Facebook SEO post that do have the rel="author" in place.
So your mileage may vary depending on how often your site and individual URLs are crawled.
[Update 12/15/2011] You can now also check Author stats in Google Webmaster Tools to see statistics for pages for which you are the verified author.
That's how I implemented rel=author. Let me know if it works for you and if you've found other ways to implement it on WordPress or other platforms like Blogger.
The Next Post: Google+ Review
The Previous Post: How To Get Out of Panda Jail