I love a good spreadsheet full of numbers and columns that I can filter and manipulate. But when I begin keyword research it's not about numbers, it's about user intent and query syntax. It's about finding the right modifiers.
Google Related Searches
Google related searches is a powerful way to gather keyword intelligence. You'll find a subset of related searches at the bottom of search results but you'll want to use the advanced search option on the left hand menu to get full value from this feature.
You may need to click the More search tools link to reveal this option.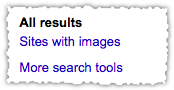 One more housekeeping note. I'm going to split this post up into two sections, the first addressing tactical ways to use Google related searches and the second straying into a more theoretical examination that might appeal to algorithm geeks.
Find Root Modifiers
Related searches can help you quickly identify top root term modifiers.

For the root term 'heart attack' you get a nice collection of modifiers. Then enter a space after the term in the search bar to trip Google Instant.

That's right, you get double the suggestions when using Google Instant with related searches. Not only that, but these are different from the suggestions offered in the normal Google Instant interface.
Time to use your brain and collect the modifiers that make sense. I usually copy and paste the root modifier combinations to a text pad. Then drop the list into the Google Keyword Tool to find additional keyword opportunities and benchmark query volume.
Find Modifier Classes
Locating a few strong modifiers is nice but identifying a modifier class is even better. I define a modifier class as a set of structured terms. In this instance a picture really is worth a 1,000 words.

Here you quickly confirm that song is a modifier class for Kasabian lyrics and probably is for any band+lyrics combination. (This is a shameless plug for the amazing Kasabian.)
Another example uncovers an easy brand modifier class.

Modifier classes are great ways to understand query patterns and, should you have the content to support it, expand your footprint.
Find Term Synonyms
Usually you'll start the research process with a target keyword. However, this term may or may not be the way your customers are actually searching for your product or service.

In this instance 'tv repair' might be synonymous with 'tv troubleshooting' and 'tv problems'. It's up to you to figure out what the query intent is for each of these variations. Don't just blindly gather up modifiers willy-nilly!
I recommend using Google Insights for Search to see the category profile for each of these terms. In this case, you'll find that the local category is more prevalent for those searching for 'tv repair' than 'tv troubleshooting'. I interpret this to mean the intent behind 'tv repair' may lean toward finding a local tv repairman while the intent behind 'tv troubleshooting' may lean toward finding a do-it-yourself solution.
As a safeguard you'll want to perform a synonym query on many of these modifiers.
Find Competitors
Google related searches can also bring up potential competitors.

For the term 'sweatshirt', retailers like American Eagle, American Apparel, Old Navy and Hollister are all presented. If you're selling sweatshirts you might add these sites to your list of competitors. What's interesting is that none of these sites rank on the first page of organic results for this term.
A quick analysis leads me to believe these sites are optimizing for 'hoodie' and 'sweater' instead of 'sweatshirt'. That might not be a bad idea based on comparative query volume.
Find Semantic Keywords
You'll probably have noticed by now that sometimes Google related searches don't include the target keyword at all. In these instances Google is returning a type of semantic keyword.

Bananas foster is my favorite dessert (and I was lucky enough to have it at Brennan's.) Here you can see that Google is returning other desserts related to bananas foster. To be fair this probably isn't true semantics but simply a measure of closely related queries. Nevertheless it can be an interesting way to find potential keyword targets for SEO or PPC programs.
Speaking about PPC, what about pay per click?

Sure enough Google related searches does a nice job of bringing up related terms without the keyword term being present.
You Are A Tool
Sounds like a put down but it's actually a compliment. Google related searches is a powerful keyword research tool, allowing you to explore and find modifiers, modifier classes, synonyms, competitors and semantic terms. Yet the most critical part is to apply your own analysis and to intelligently validate assumptions with other tool sets.
(This ends the tactical part of the post. You're now entering the theoretical side that might only appeal to algorithm geeks. You've been warned.)
Bigram Breakage
What struck me as I examined related searches is how it reveals the application of bigram algorithms. Loosely interpreted, it's a way to model where to split word pairs or break a query into component parts.
Admittedly, I'm a neophyte in this realm so I'll let Steven Levy, author of In The Plex, explain it.
The key to understanding … was the black art of "bigram breakage"; that is, how should a search engine parse a series of words entered into a query field, making the kind of distinctions that a smart human being would make?"
Related searches puts bigram breakage front and center.

The related searches for 'social network sites' returns modifiers on the entire term, but also for component terms: 'sites' and 'social network'. This indicates that Google has learned where best to split this phrase. There aren't any 'network sites' modifiers displayed.
Here's another interesting example.

Once again Google returns the whole term with modifiers. But this time it's identified 'social contact' and 'social ___ integration' as the component terms. I, for one, am fascinated by how Google determines how to split word phrases.
Speed of (Machine) Learning
Not only can you get a sense for how Google is splitting word phrases but also how long it takes them to learn when to do so.

Related searches for angry birds only returns modifiers. It seems like Google has learned that it should not split these two words. Yet, it hasn't yet learned to return related searches without that keyword (e.g. – Fruit Ninja).
Contrast this to another angry animal.

The contrast is pretty stark. Here Google does split the phrase, producing modifiers for 'dogs' and 'angry'.
Watch and Learn?
Understanding the science behind search can be interesting and, at times, useful. In this case, I also wonder if watching how the related searches change over time for certain valuable keywords might be instructive.
What happens when the bigram breakage for a term changes? How long does it take for Google to recognize when not to break a word pair? How long does it take before Google develops semantic terms for that word pair? How do these things impact normal day-to-day optimization efforts?
I don't know the answers. Heck, I might not even be asking the right questions! But I believe observation can be a great teacher. So I'll be keeping an eye on when and how certain related searches evolve over time.
The Next Post: The Future of Search and SEO
The Previous Post: Google Scribe SEO Hints