Google+ has seen unprecedented adoption over the last month and it is clearly the best social effort Google has produced to date.
But why is Google pursuing social in the first place?
G+
Some see G+ as proof that Google is chasing tail lights, while others see it as a natural extension of Google's mission, which is 'to organize the world's information and make it universally accessible and useful.' In this instance, that information is social in nature.
I see two compelling reasons behind G+: search and advertising.
G+ provides Google with a primary source of social data to mine and use for search purposes. Can you blame Google for not wanting to rely on Twitter or Facebook for social signals?
G+ also seeks to break the stranglehold Facebook has on attention. This is important because the ad business runs on attention. If you're on Facebook for 55 minutes a day, that leaves less time for other sites. G+ doesn't have to beat Facebook it simply needs to fracture its monopoly on attention.
Identity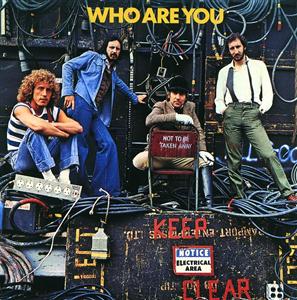 One of the more controversial aspects of Google+ has been Google's insistence on people using real names.
Google Profiles is a product that works best in the identified state. This way you can be certain you're connecting with the right person, and others will have confidence knowing that there is someone real behind the profile they're checking out. For this reason, Google Profiles requires you to use the name that you commonly go by in daily life.
I probably won't make many friends by saying I completely agree with this policy.
Some believe that sacrificing anonymity will sacrifice risk-taking, honesty and whistle-blowing. There may be less of that, but it won't stop. And is it so bad to encourage people to take risks and be honest without the crutch of anonymity? For those of you who think I'm not personally aware of the issues here, let me disabuse you of that notion.
Back in 2008 I dashed off a quick email to the editor of The Contra Costa Times. It wound up in the paper and was attributed with my name and city. About a week later I got this in the mail.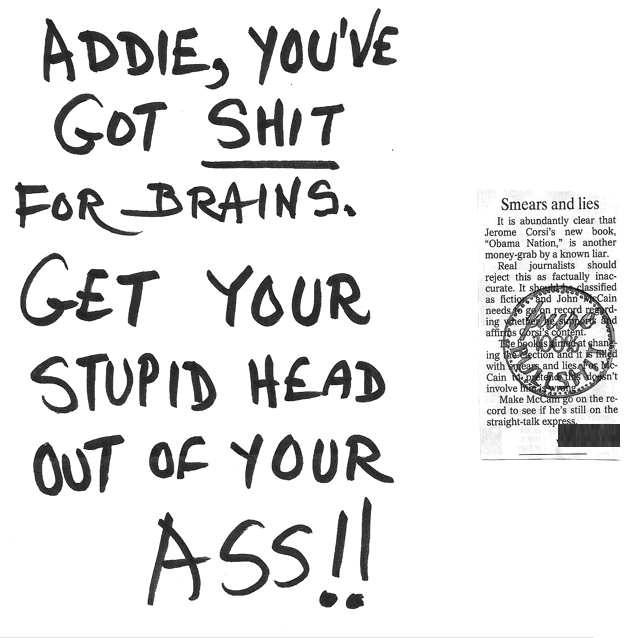 This person found my address (which was not in the paper) and sent me this erudite note. It was unsigned and did not have a return address. It was a bit chilling. Yet, the anonymity used belies a cowardly nature. This person also can't seem to get my name right, but who cares about details like that when you just want to call someone names.
I'm not saying all anonymity leads to this type of behavior. Nor do I downplay the need for anonymity in certain situations. Speaking out in other countries could have dire consequences. But one of the reasons people embraced Facebook's new commenting system was the fact that identity would reduce spam and needless flame wars. No more anonymous pot shots from the peanut gallery.
Could Google be doing a better job in how they handle the policy? Yes. But I believe they're far more concerned with ensuring that spam doesn't enter this new ecosystem, both for user experience and data integrity.
What's In A Name?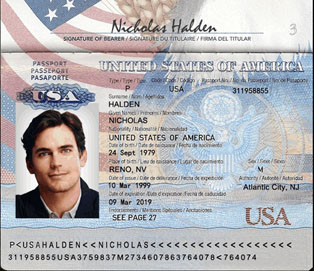 I don't think Google is saying you have to use your true name. I'm assuming that Mark Twain could sign up, but so could Samuel Clemens. And it's not that hard to set up a new persona online. Maybe we'd even see profiles for both Neil Caffrey and Nick Halden.
But why does Google care so much about identity, particularly on G+? What does it really do for them? Here's where I think the rubber really meets the road.
Identity allows Google to map the web of people.
Since Google launched, they've indexed the web using links. That's worked amazingly well, despite what many competitors and faux-academics have contended. Mind you, there's still a lot of room for improvement.
Today we know that there are people behind sites and documents. Facebook understood that people were 'hiding' behind websites and they wanted to reveal who was visiting (and Liking) those sites. Google, on the other hand, seems more interested in who created those websites and documents. They're looking to augment the web of links with the web of people. That's why identity is so important.
Without identity Google can't create a web of people. They can't mine the interactions on G+ to determine trust and influence. They need a primary key for establishing a new social database and name makes a whole lot of sense.
Yes, Google will want alternate email addresses, pseudonyms and even usernames, but they need something to pivot around. Mapping the social graph necessitates this type of approach. Google's already pretty good at this, which is why you may be presented with suggested links in your Google Profile. One look at your Social Connections should give you an idea of how much Google knows. (Really, go look at this today!)
SEO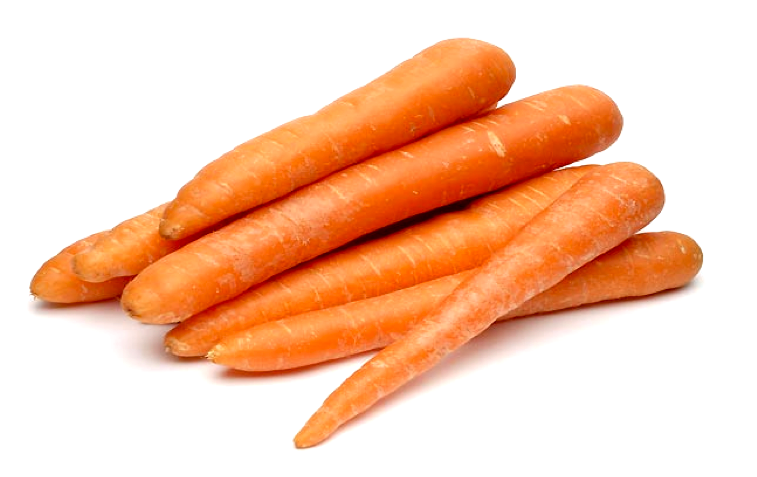 The carrot that Google can wave to encourage identity is search. Rel="author" is the first overt way that Google is rewarding identity in search results. But that's just the tip of the iceberg as far as I can tell.
Getting your smiling mug on search results will certainly help your click-through rate and boost your ego, but long term Google can begin to map all of your social interactions. They'll encourage you to link more and more of your digital self so they can confidently perform this analysis.
I'm a firm believer that Google has a GIGO problem. The explosion of digital content has made everyone an author, an expert and pundit. Jason Calacanis certainly doesn't suffer fools gladly.
There are a lot of stupid people out there … and stupid people shouldn't write.
I don't agree with that statement but I do with what Jason said next.
There needs to be a better system for tuning down the stupid people and tuning up the smart people.
Google needs a better way to sift through and determine quality in an age where content can be produced and distributed with such ease.
Instead of going from the document level and building up, what if you used an 'author' filter? Google's Panda update created an A and B pile for site quality. Google could do the same for author quality. Yes, it's a scary thought that Google might pass judgement on your corpus of content, but in the end that's pretty much their job.
This doesn't mean that B pile authored content wouldn't rank, but it may need to exhibit other signals to outrank A pile authored content.
AuthorRank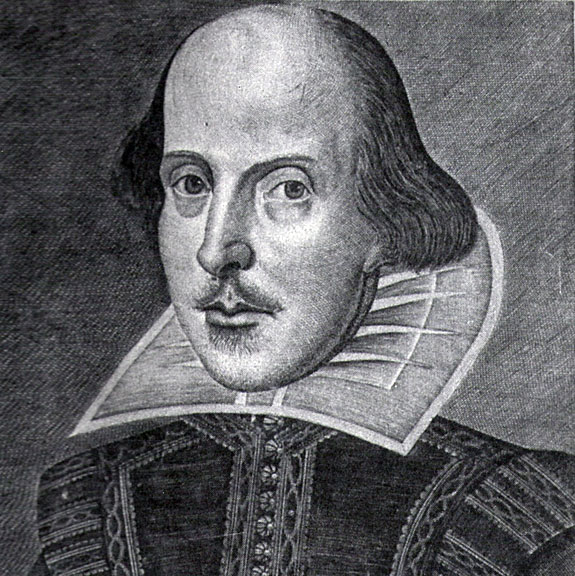 AuthorRank will help augment the rickety link graph. The reliance on a Google Profile, insistence on a real name, the implementation of rel="author" and the whole of G+ makes me believe that authorship is a vital part of how Google wants to measure the web. I'm hopeful that Google can determine a better way to measure these social gestures, beyond what Klout, PeerIndex or others currently provide.
Could Google transform trust and influence from a popularity contest to a meritocracy?
Google could look at the speed of sharing. If the time between my interaction with that content and my sharing of that content is too short, I'd like that to count less. This may eliminate much of the robo-syndication that persists today and even reduce the sheep and ego mentality of promoting luminary content.
In addition, comments are a rich source of data, both as meta data on the shared piece of content but as a signal of depth and breadth of engagement. You'll have noted that some of the Internet famous get a slew of comments on G+. But how many of them are in the 'brilliant post', 'totally agree' and 'Yes!' variety? What percentage of your comments are productive versus congratulatory?
AuthorRank could provide real value to search right out of the gate. Imagine if blogs without real identity were given less prominence? Suddenly splogs would disappear as would many of the exact match keyword domains with MFA (Made for AdSense or Made for Amazon) content.
TL;DR
Google+ requires identity so it can confidently map a web of people and use authorship to better refine search results. In the process, and as an added bonus, they may also break Facebook's monopoly on attention.
The Next Post: Image Search in Google Analytics
The Previous Post: The Pen Salesman