If you spend a lot of time in Google Analytics you may quickly find yourself frustrated with the user experience. Here are 3 userscripts that make using Google Analytics way more efficient.
What are Userscripts?
Userscripts are small pieces of JavaScript code that tweak or provide additional functionality to your web experience. You install userscripts as a simple add-on in Chrome, Firefox (requires Greasemonkey) or Internet Explorer (requires IE7Pro).
In a nutshell, userscripts make things better. A lot better.
Cleaner Profile Switching
This userscript lets you switch from one Google Analytics profile to another and see the same report. It also gives you the option of opening that new profile in a separate tab.

This is a huge time saver if you've got multiple profiles (which you should) since you won't have to build the report from scratch each time.
Get it: Cleaner Profile Switching
Absolute Conversion
This userscript calculates and displays the number of conversions next to the conversion rate.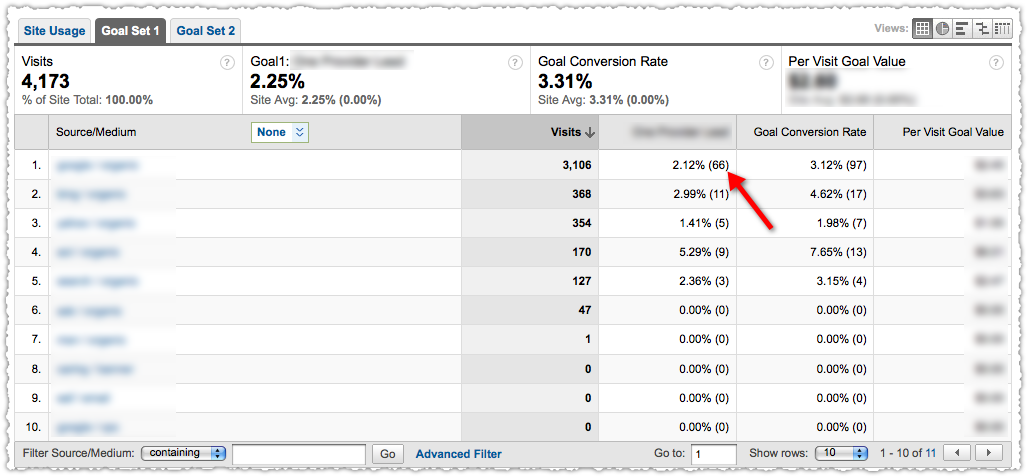 So instead of navigating to the Goals menu or doing some math in your head, you can quickly see your conversion numbers. Please note that while this is a handy userscript, it breaks when Google Analytics samples data.
Get it: Absolute Conversion Userscript
Accordion Menu
This userscript makes all of the top level Google Analytics menus expandable without waiting for the browser to reload.
If you use Google Analytics often, you probably get tired of clicking on main section report titles, only to wait for it to load so you can click on sub-reports. Think about it, how many times have you clicked on "Traffic Sources" with the full intention of clicking on "All Traffic Sources" as soon as possible? Or "Content" just to get to "Top Content".
This userscript is a massive time saver.
Get it: Accordion Menu Userscript
Using Userscripts
I should warn you that userscripts can sometimes be janky and cause problems. In fact this post was originally going to feature four userscripts until I noted a problem with one of them. Don't let this keep you from trying them out. Userscripts are super easy to uninstall and many of the creators are eager to get feedback on how to improve them.
Give these Google Analytics userscripts a try and let me know if you have any others you swear by.
The Next Post: The Link Graph Is Broken
The Previous Post: Valentine's Day Thank You