I've made predictions for the past four years (2009, 2010, 2011, 2012) and think I've done pretty well as a prognosticator.
I'm sometimes off by a year or two and many of my predictions are wrong where my predictions were more like personal wishes. But it's interesting to put a stake in the ground so you can look back later.
2013 Predictions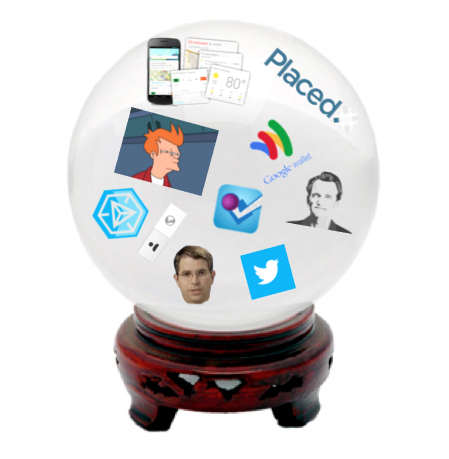 Mobile Payment Adoption Soars
If you follow my Marketing Biz column you know I'm following the mobile payments space closely. Research seems to indicate that adoption of mobile payments will take some time in the US based on current attitudes.
I believe smartphone penetration and the acceptance of other similar payments such as app store purchases and Amazon Video on Demand will smooth the way for accelerated mobile payment adoption. Who wins in this space? I'm still betting on Google Wallet.
Infographics Jump The Shark
Frankly, I think this has already happened but perhaps it's just me. So I'm going to say I'm the canary in the coal mine and in 2013 everyone else will get sick and tired of the glut of bad Infographics.
Foursquare Goes Big
The quirky gamification location startup that was all about badges and mayorships is growing up into a mature local search portal. I expect to see Foursquare connect more dots in 2013, making Yelp very nervous and pissing off Facebook who will break their partnership when they figure out that Foursquare is eating their local lunch.
Predictive Search Arrives
Google Now is a monster. The ability to access your location and search history, combined with personal preferences allows Google to predict your information needs. Anyone thinking about local optimization should be watching this very closely.
Meme Comments
A new form of comments and micro-blogging will emerge where the entire conversation is meme based. Similar to BuzzFeed's reactions, users will be able to access a database of meme images, perhaps powered by Know Your Meme, to respond and converse.
Search Personalization Skyrockets
Despite the clamor from filter bubble and privacy hawks, Google will continue to increase search personalization in 2013. They'll do this through context, search history, connected accounts (Gmail field trial) and Google+.
The end result will be an ever decreasing uniformity in search results and potential false positives in many rank tracking products.
Curation Marketing
Not content with the seemingly endless debate of SEO versus Inbound Marketing versus Content Marketing versus Growth Hacking we'll soon have another buzzword entering the fray.
Curation marketing will become increasingly popular as a way to establish expertise and authority. Like all things, only a few will do it the right way and the rest will be akin to scraped content.
Twitter Rakes It In 
I've been hard on Twitter in the past and for good reason. But in 2013 Twitter will finally become a massive money maker as it becomes the connection in our new multi-screen world. As I wrote recently, Twitter will win the fight for social brand advertising dollars.
De-pagination
After spending years and literally hundreds of blog posts about the proper way to paginate we'll see a trend toward de-paginating in the SEO community. The change will be brought on by the advent of new interfaces and capabilities. (Blog post forthcoming.)
Analytics 3.0 Emerges
Pulling information out of big data will be a trend in 2013. But I'm even more intrigued by Google's Universal Analytics and location analytics services like Placed. Marketers are soon going to have a far more complete picture of user behavior, Minority Report be damned!
Ingress Becomes Important
I'm a bit addicted to Ingress. At first you think this is just a clever way for Google to further increase their advantage on local mapping. And it is.
But XM is essentially a map Android usage. You see a some in houses, large clusters at transit stops, movie theaters and doctor's offices, essentially anywhere there are lines. You also see it congregate at intersections and a smattering of it on highways.
Ingress shows our current usage patterns and gives Google more evidence that self-driving cars could increase Internet usage, which is Google's primary goal these days.
Digital Content Monetization
For years we've been producing more and more digital content. Yet, we still only have a few scant ways to monetize all of it and they're rather inefficient when you think about it. Someone (perhaps even me) will launch a new way to monetize digital content.
I Will Interview Matt Cutts
No, I don't have this lined up. No, I'm not sure I'll be able to swing it. No, I'm not sure the Google PR folks would even allow it. But … I have an idea. So stay tuned.
The Next Post: New Ways To Track Keyword Rank
The Previous Post: Reclaiming Lost iOS Search Traffic