Now is the time when bloggers go on the record with their thoughts for the year ahead. Place your bets! Stake your claim! Here's mine.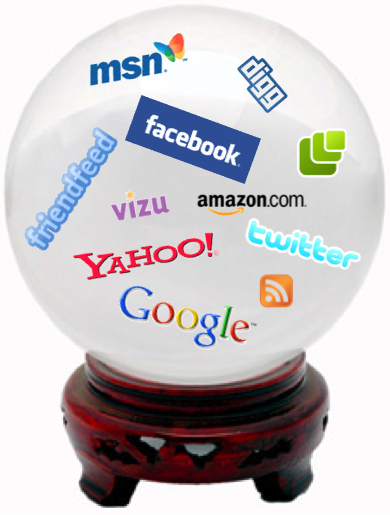 Facebook Becomes A Portal
Realizing that social media and advertising is like oil and water, Facebook repositions itself as a portal leveraging Microsoft's Live Search as the revenue model. This also might result in the potential acquisition of Netvibes to provide a more robust offering to compete with Yahoo!
Identity Systems Fail
Confused about the difference between OpenID, Facebook Connect and Google Friend Connect, users throw up their hands and decide not to use any of the above.
Video Advertising Succeeds
The adoption of video is surging faster than many expected. Longer formats and better quality will bring even more eyeballs who will grudgingly accept advertising.
Microformats Go Mainstream
Why they aren't already is shocking. Nevertheless, in 2009 we'll see microformats become a standard and search results will become far more robust as a result.
Banner CTR Becomes Obsolete
Brands will finally realize that measuring success by click through rate (CTR) isn't working. Measurement 'beyond clicks' will be the new yardstick, whether that's through new brand advertising measurement services like Vizu or through monitoring services like Brandwatch and Trackur among a gaggle of others.
RSS Adoption Spikes

Someone will (finally) figure out how to market RSS to 'the masses' who will grasp the sublime benefits of having content come to you instead of the other way around.
Kindle 2.0 Flops
Amid a weak economy Amazon releases the newest version of Kindle. Other readers have gained ground where Kindle has not and at the core Kindle is a solution without a problem.
Google Search Share Stalls
The move by Facebook (see above) causes a radical change in the search landscape. Microsoft passes Yahoo! for second place and talks about a Microsoft Yahoo merger are (unbearably) reignited.

FriendFeed Surpasses Twitter
FriendFeed adoption increases at an accelerated pace due to quick innovation, uncluttered design and an interface that lends itself to communication.
Someone 'Dies'
Users reach social media overload and VCs get even more nervous about revenue creating social media shrinkage. In this instance 'Dying' means a company goes under or is purchased for a song. My short list includes Plurk, Twitter, Digg and Seesmic. This isn't a reflection of the people or product but the inability to truly reach the mainstream with a service that has a profit model.
There are plenty of other things that I believe will happen in 2009, but they seem more obvious or an extension of current trends. Instead I tried to be a bit more bold, at least on a few of my predictions.
We'll check in this time next year to see how I fared. In the meantime, feel free to comment and provide your feedback and reaction to my predictions.
The Next Post: Yahoo Adds Ads To Alerts
The Previous Post: Google SEM 101: Phrase Match and Exact Match