Do as I say, not as I do. That seems to be Google's philosophy when it comes to blog optimization.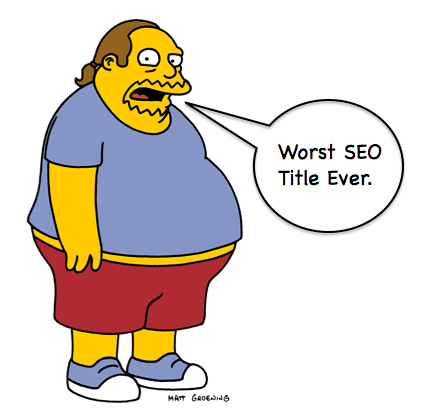 Worst SEO Title Ever
What has finally pushed me over the edge into rant mode? It's today's Google+ announcement.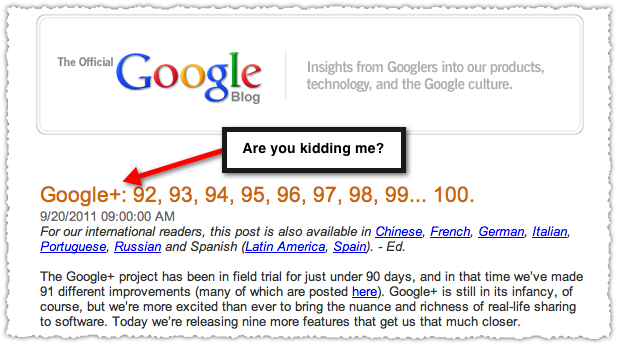 A bunch of numbers for your title. Really? Instead maybe you'd, you know, want to mention the introduction of search or that Google+ was now open to everyone. Those are actually really interesting and noteworthy items.
This isn't a John Barth novel. The meta information around the number of improvements isn't really relevant. Really, it's not.
What query intent are you trying to match here? And yes, that matters.
Snippet Optimization
Google also continues to fail on snippet optimization. Yes, we know that the meta description isn't a ranking factor. But the description is more important today since it's used in the transmission of information to other platforms. So what does the snippet for this post look like?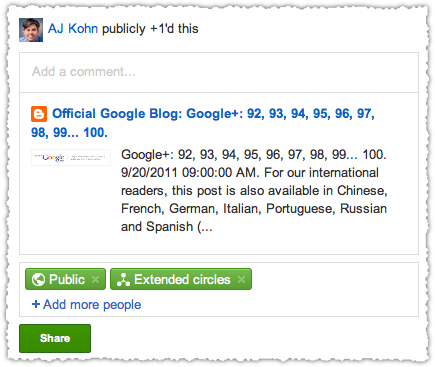 At a glance can you tell what this is about? I certainly can't. The default image here is useless, the title is nonsense and the description simply tells me that it's available in other languages. Google can count to 100, seemingly in different languages. Congratulations.
Best Practices and Role Models
Does everyone have to follow best practices? No. All of this is optional. But Google is in a position where they should be setting an example. Google might want to take the Charles Barkley approach, but like it or not, you are a role model.
Or perhaps this is a deliberate thumb in the eye to the SEO community? We know that Google is willing to change titles when they think they're not quite right. So maybe they just don't think any of this is necessary? But I doubt that's the case. Remember the adage about malice.
So please Google, take the time to perform the minimum of optimization on your vast collection of blogs (or give me and my team a call and we'll get you square.) It's good for you and it's good for the search community.
[Update] Well, it looks like the Google Mobile Blog wants to fight for the Worst SEO Title Ever crown with their own numbers post.
The Next Post: Facebook Launches Search
The Previous Post: Google Influence Metric