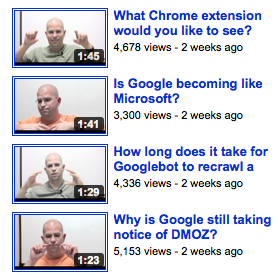 The average number of views a Google Webmaster Central video, starring Matt Cutts, receives is approximately 4,000.
That's right, only 4,000 people (if you believe every view is unique) tune in to learn from the guy who heads up Google Web Spam and is the face of Google search.
I don't get it.
Is the SEO community that small?
One person recently commented that the Facebook Like button made him feel lonely.
Fundamentally, this means that the web is a lonelier place for me. It's like walking on a sidewalk on one side of the street, where it's totally empty, and getting a glimpse that the other side of the street is crowded with friends chatting. The friends are there: they're just not mine. I must be a loser.
When I look at the number of views Google Webmaster Central videos get, I begin to feel similarly. Are there only 4,000 people who share my passion for search engine optimization? Is the SEO community that small?
SEO Search Volume
I decided to so a little research. First up was to see what type of search volume 'SEO' gets using Google's Keyword Tool.


It's not monster volume but it certainly shows that there's a fair amount of interest in the topic.
Quick note, if you don't like Google's new interface you can force the old version of the Keyword Tool with the following URL:
https://adwords.google.com/select/KeywordToolExternal?forceLegacy=true
SEO Site Traffic
So what about some of the major sites out there. What type of traffic do they get?




While I don't usually find Compete* to be accurate, it shows that sites like SEOmoz and SEO Book get nearly 1 million visitors a month. Even Matt Cutts gets nearly 400,000 visitors a month to his blog. So, the idea that only 4,000 people are watching his videos is … shocking.
*I find Compete to be wildly wrong most of the time but the alternative is Quantcast which has SEOmoz at 46K, SEO Book at 3K and Matt Cutts at 15K. While I usually find better success with Quantcast, these numbers seem outlandishly wrong.
RSS Webmaster Central Videos
Webmaster Central Videos are usually less that 2 minutes long and Matt provides as much information as he can on a specific topic. Sometimes the topic isn't that illuminating, and sometimes Matt can't divulge as much as you might like. But it's better than a poke in the eye with a sharp stick, right?
Read between the lines or listen for what seems like an offhand comment and you often do learn something. As I was writing this, a new video was uploaded that addresses the May Day algorithm change.
The best way to ensure you're watching these videos is to subscribe to them via RSS. This is easy, so do it now!
Just go to the Google Webmaster Central Channel on YouTube and click on the RSS icon in your browser toolbar. If you're not using RSS, well … shame on you.
The Next Post: Unlink at your own risk
The Previous Post: Top Tweets is a Trojan Frog