The other day I read Steven Hodson's Shooting At Bubbles post regarding Twitter 2.0. And it finally dawned on me!
Twitter is the Underpants Gnomes of the Internet
If you're not familiar with the Underpants Gnomes, they were featured in a South Park episode in which the Gnomes devised an … interesting business plan.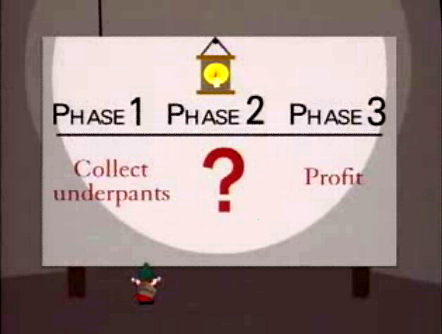 Replace underpants with users (or VC cash) and you've got Twitter. Oh, sure they've alluded to some sort of business plan, but even as recently as a few weeks ago Evan Williams wasn't willing to divulge a real revenue model despite John Battelle's prodding.
I remember the Web 1.0 days of grow fast, grab market share and monetize later. Only a few survived this kowabunga style of business.
But who knows, maybe Twitter can turn underpants into profit.
The Next Post: Comcast Upgrade Disrespects Customers
The Previous Post: Google Search Innovation Accelerates