The future of search is numbered. No, it's not what you think. I'm not predicting the demise of search. Quite the opposite.
Instead I'm talking about two trends that could have interesting implications on how both SEO and PPC campaigns are constructed.
The number of words per query is going up
Bill Tancer, General Manager of Global Research at Hitwise, shared the following statistics during a SMX West presentation.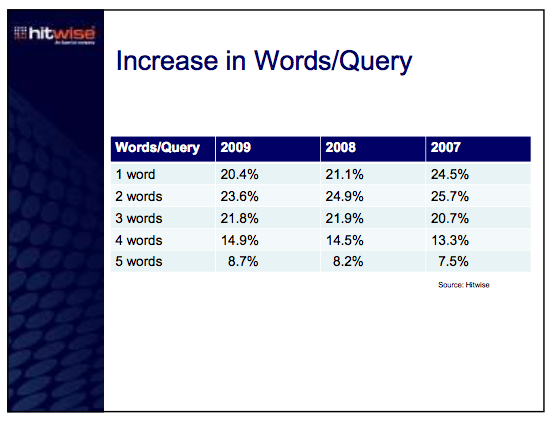 The trend is clear. People are using more words in their search queries. The reasons behind the increase in words is debatable. Is it an increased comfort and savvy with search or frustration with the search results? Either way, long tail searches are on the rise and will likely trend this way for some time.
People are using numbers to reformulate queries
In a post titled Study on the Structure of Search Queries, Bill Slawski of SEO by the Sea discusses a Yahoo! research paper titled The Linguistic Structure of English Web-Search Queries (pdf). One of the findings was that people were using numbers to modify their searches.
The type of word most likely to be reformulated is "number." Examples included changing a year ("most popular baby names 2007″ ! "most popular baby names 2008″), while others included model, version and edition numbers ("harry potter 6″ ! "harry potter 7″) most likely indicating that the user is looking at variants on a theme, or correcting their search need.
The data set for this research is from 2006. Yet, combined with the increase in words per query I'd theorize that numbers remain a powerful way to search today.
I'm the first person to warn against using yourself as an example but … I'm going to break that rule right now.
I often find myself using numbers, particularly years, when searching. If I'm doing research on a volatile topic (like SEO) I might come across ancient results from 2004. These are rarely helpful.
So I'll begin to iterate and modify my query with years to find more relevant results. I had to do something similar when trying to cobble together Google's share of search from October 2004 to October 2008.
Speaking of Google …
Google displays the date as a meta description prefix

Sometime last year Google began to insert a date prefix before the meta description in search results. They did this for pages in which Googlebot found a date – mostly blog posts.

I certainly noticed since some of my well crafted 150 character meta descriptions were suddenly being cut off because of the inserted date.
Why exactly would Google do this? They've certainly made it clear they like "fresh" content but they could present fresh content without the date. I can only surmise that Google believes users are looking for and will benefit from seeing the date.
Oddly, the date prefix does not seem to be searchable. When I search for 'Magical Thinking by Augusten Burroughs 2007' the same result is displayed but the visual treatment changes.

Once again Google tromps all over my well crafted meta description, but without the meta description date prefix. This seems to prove that the meta description date prefix isn't searchable. But perhaps it should be.
Are you including numbers in your SEO and PPC strategies?
We know that users are using more words per query and that they're fond of reformulating queries using numbers. This should be enough evidence to implement a robust modifier strategy, if you haven't already.
Those who already have long tail programs should think about increasing the use of numbers as valid modifiers. As an example, wouldn't review sites benefit from bidding on terms like 'digital camera reviews 2009' or 'trek bicycle ratings 2008'?
Search (whether paid or organic) is about matching your content (or ad) to the user queries. Don't let your programs become dated.
The Next Post: Google Did You Mean Search Results
The Previous Post: FriendFeed Monetization? Focus Groups.