Last week Twitter began to display ads for March Tweetness and ExecTweets.

When this unit showed up under the follower statistics about a month ago it was a clear prelude to a true advertising unit.
I was expecting a more straightforward advertising pitch, something along the lines of contextually relevant ads based on an analysis of your tweet stream. Instead, the ads above point to sponsored microsites leveraging specific Tweet streams.
I've been hard on Twitter before, but in this instance I'm impressed.
Sponsored Microsites is the Twitter Revenue Model
Clicking on these ads bring you to sites that are powered by Twitter and Federated Media and sponsored by Fortune 50 companies – Microsoft and AT&T.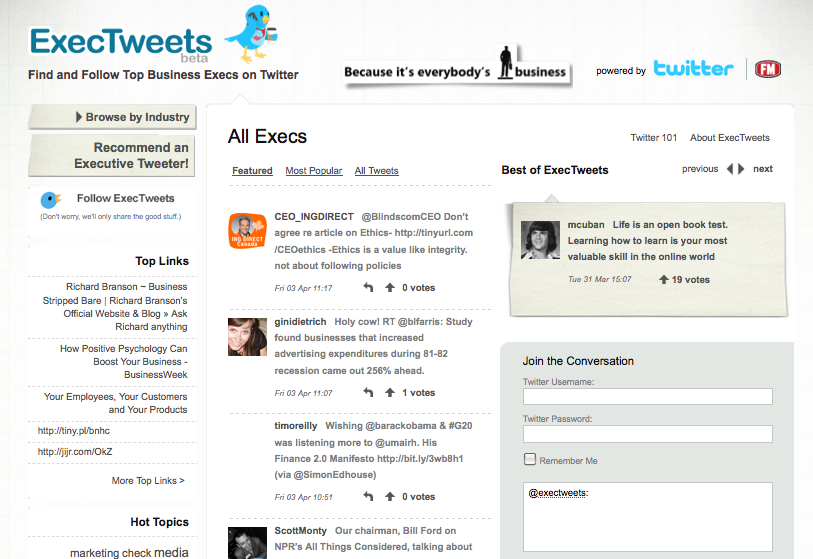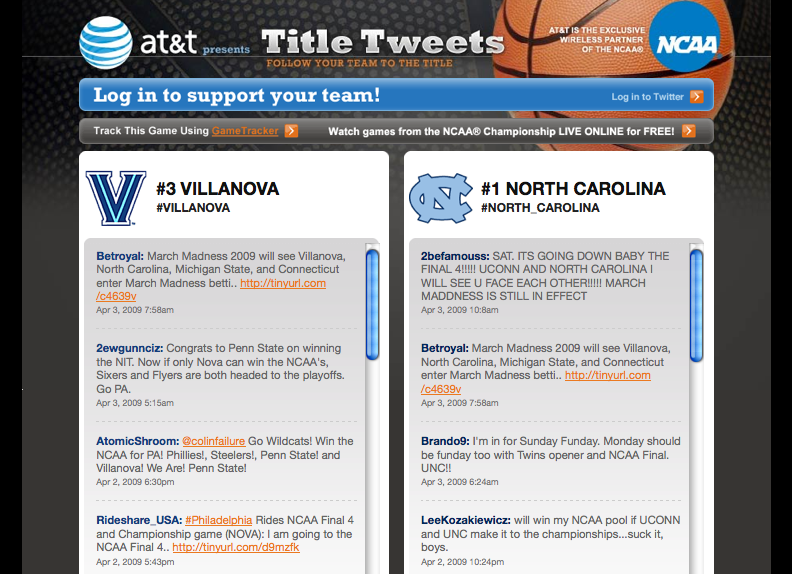 Twitter provides the tweet stream and eyeballs, Federated Media builds the site and lands the sponsors. Twitter and Federated split the advertising revenue.
Scalable and Self-Reinforcing Business Model

Microsites are scalable and the participation on these sites is self-reinforcing for both the microsite and for Twitter as a whole. So, not only can Twitter and Federated Media use these microsites to drive revenue, they also help to create higher engagement that make future microsites viable.
Sidestepping the CTR Debate
The sponsors Federated Media are bringing to the microsites are big. They're interested in reach and branding not the CTR and ROI on the specific campaign. Twitter and Federated would be wise to do a brand lift study on these microsites to prove their worth from a brand equity perspective.
Privacy and User Issues
While Twitter is public, this is a whole new level of distribution. Could it generate more caution regarding tweets? Will some feel like Twitter is 'using' them to make money?
Twitter and Federated Media have already addressed this in some ways by letting people opt-out of ExecTweets. I wonder though, if that's a slippery slope. Will we all wake up one day and have to check a box to agree to have our tweets used on 'third party' sites?
Or maybe that's the plan.
Syndication or Subscription
If the microsite business model works, perhaps the future is a choice between having your tweet stream syndicated to microsites or subscribing on a monthly basis.
Whatever the future holds I'll eat some crow and give credit to Twitter for finding a creative way to monetize their product. (Mind you I still think FriendFeed blows Twitter away.)
Are sponsored microsites enough to be a sustainable business model? I don't know. But I'm more confident that Twitter will figure it out based on this implementation.
The Next Post: Parents Run the Internet
The Previous Post: Is Yahoo the Firefox of Search?