The other day I was walking to lunch with a long-time client and we passed one of the main entrances to Pac Bell, SBC AT&T Park. He noted that this particular entrance seemed overly obvious.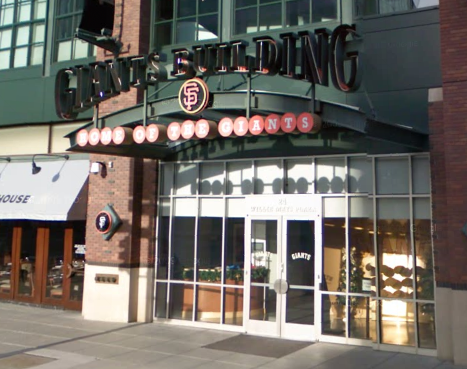 This image, from Google Street View, shows the 'Giants Building' sign with a SF logo underneath and a 'Home Of The Giants' as a type of sub-header.
My response was simple. That's good SEO.
This brought me a round of good-natured chiding from my client about being a bit too SEO focused. But really, this was a great example of Blind Five Year Old SEO. The sign was simple and instructive. (Perhaps also a reaction to the frequent name changes that Park has undergone.)
Could the San Francisco Giants be SEO savvy?

Let's say I'm a tourist from … Sweden. What name tells me more: AT&T Park or Giants Building? That's a no-brainer, right! Better yet, I've got that nice SF logo there for some context. And if I'm still confused I'm even told that this is the home of the Giants. Without a doubt I know the building in front of me is the home of the Giants.
Whether or not they'd know that the Giants are a baseball team is another thing entirely.
So am I too SEO focused or is this just a good real world case of providing easy, instructive signage?
The Next Post: Are you Canadian?
The Previous Post: Pipes versus Dashes