In April 2010 Facebook launched the Open Graph and Like button, allowing sites to better control how their pages are displayed in Facebook News Feeds and search results.
Retailers Slow To Adopt Like Button
Yesterday I visited all of Internet Retailer's Top 100 retailers to see if they were using the Like button. I did not include those who were using the Like button for their Facebook Page but instead was looking for Like button usage on product pages.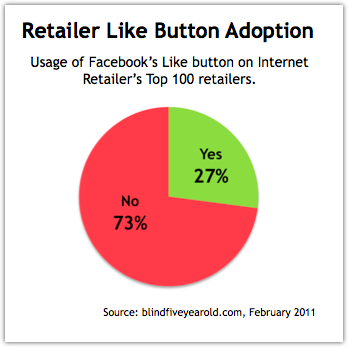 The adoption rate of the Like button for eCommerce seems low, with only 27% of the Top 100 online retailers using the Facebook Like button.
Like vs Share
Facebook Share was not included in the above numbers, but is more widely used by retailers. Yet, the share functionality is no longer promoted or recommended by Facebook. Searching for it on their developers platform results in very little and what does usually points to the Like button and Open Graph documentation.
While not specifically measured, I'm unsure if any of these retailers (even those with the Like button installed) were using the related social plugins. In particular, the Recommendations plugin could be an interesting cross sell feature for retailers.
Facebook Insights
Of those using the Like button, only 35% were tracking usage via Facebook Insights. My methodology for validating this was to use the Facebook Linter tool on a retailer's domain. I counted those who had the appropriate Facebook Insights for Domains verification (fb:admins, fb:app_id or fb:page_id) enabled.
This is somewhat less surprising given the difficulty in verification, lack of robust data in Facebook Insights and ability of retailers to track downstream traffic from Facebook as a benchmark for success. However, this metric should be of concern to Facebook.
eCommerce Opportunity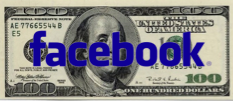 The Like button and Open Graph present a huge opportunity for retailers and eCommerce. Using Facebook SEO, retailers can optimize the way their products are presented on Facebook.
Each Like is a type of micro-review and an opportunity for retailers to leverage brand affinity. In addition, sites can publish stream updates to users who have Liked pages via the Open Graph API.
There are 500 million active users who spend 700 billion minutes a month on Facebook. When will retailers decide to dedicate more effort to reach this captive audience?
The Next Post: How To Quickly Identify Comment Spam
The Previous Post: Blekko Censors Search