Lately, you can't go a day without Yahoo talking about their new open initiatives. Whether it's Yahoo BOSS (Build your Own Search Service), Yahoo Pipes or Yahoo SearchMonkey, it's all about openness and collaboration.
Yahoo SearchMonkey
Yahoo SearchMonkey is the most interesting initiative for search. During SMX West every Yahoo presenter seemed to have a SearchMonkey slide in their deck. I can understand why.
Using SearchMonkey, developers and site owners can use structured data to make Yahoo! Search results more useful and visually appealing, and drive more relevant traffic to their sites.
SearchMonkey turns dreary search results into something more interesting.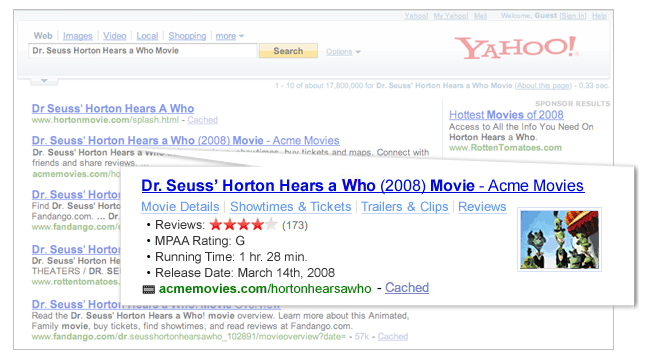 There are only a handful of default SearchMonkey apps currently running on Yahoo and the number of user apps is still a middling 100 or so. Yet, the idea seems right.
SearchMonkey is add-ons for search
That's right. SearchMonkey apps are the equivalent of Firefox add-ons.
Add-ons extend Firefox, letting you personalize your browsing experience. Take a look around and make Firefox your own.
Yahoo isn't going to win on their search algorithm. While the result sets are subjective, Google is the perceived leader and perception is reality. In addition, Google is far more focused on perfecting search and iterating the algorithm.
That's why SearchMonkey is a smart move. Taking a page from Firefox and WordPress, Yahoo is hoping that developers will make their results more appealing and usable through easy customization.
Firehoo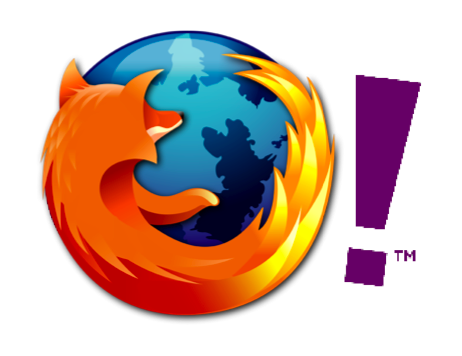 That's not where the similarities stop. Yahoo has a similar position in search as Firefox does in browsers. They're both up against large market share giants, Google and Internet Explorer respectively. Hence, they both fight against user inertia.
There are differences. Yahoo had the market share lead and let it slip from their grasp and many (myself included) would argue that Firefox is a better product (add-ons or not) then Internet Explorer.
Could Yahoo become the Firefox of search?
Maybe, but only if they focus and promote SearchMonkey apps to sites, developers and, most importantly, to users. Unfortunately Yahoo isn't doing this and remains distracted and unfocused.
It would make search far more interesting if Yahoo got serious about SearchMonkey and fully implementing a customized search strategy to woo users back to Yahoo.
The Next Post: Sponsored Microsites is the Twitter Revenue Model
The Previous Post: Longer Snippets and Meta Description Strategy