I'm a bit of a minimalist when it comes to my wallet, never wanting to come close to having the dreaded Costanza wallet. However I carry one very important business card.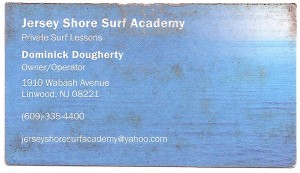 I picked up this card in a Starbucks down in Margate, NJ. I have no interest in surfing but was drawn to it for a couple of reasons. First was the superficial simplicity of a placid blue ocean as the business card's design. The marketer in me thought that was brilliant.
The second reason was a lot deeper. I looked at this card and thought, here's a person who's doing exactly what they want with their life. It represented the ability to take life by the horns and steer your own course. The business was about making a living, but likely not about making a fortune. I imagined that Dominick got a lot of satisfaction out of his business.
I keep the card in my wallet to remind me that there are options. That I should pursue my passion and try not to settle.
The Next Post: Use the NOINDEX Tag If You 'Blog For Yourself'
The Previous Post: Beware of MonkeyClicks