On Tuesday I was lucky enough to see the Sharks play the Penguins. It's the first hockey game I've been to in a long time and my first at the Shark Tank. I was lucky enough to sit in one of the corporate boxes, which is actually how I was first introduced to hockey in the 1980s, sitting in my Grandfather's Superbox seats at the Spectrum in Philadelphia. The night brought back a slew of powerful and fond memories.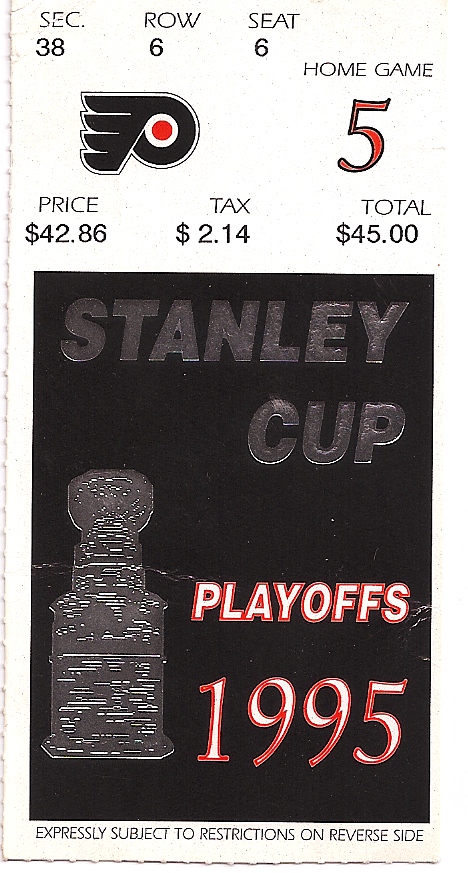 Superbox was great for a lot of reasons. It had a great view, you'd get the stat sheets every period and sometimes injured players would sit there during the game. It's how I came to get autographs from Tim Kerr and Brad Marsh.
Even better, I got to see Wayne Gretzky in his prime. Not just during the regular season but also during the 1986 Stanley Cup Finals. Hoarse from screaming my Dad took Broad Street home after Game 6. Jubilant Flyer fans lined the street giving the slowly diving cars high fives as they passed.
That year I also went to Europe for a month, three weeks of which was on a bus tour filled with pleasant Canadians. Because I knew hockey I was able to flirt with a very pretty girl from Edmonton named Shelly. The last day of the tour she kissed me.
I remember going to an Eagles game one Sunday morning in 1985. Standing on a packed subway car at Fern Rock station and finding out that Pelle Lindbergh had died. First it was a murmur, then a hush fell over the car. A fan turned up his radio for the rest of us, and we all listened, shell shocked, rocking back and forth, as they described the car crash that had taken the life of such a promising goalie.
Say what you will, Philadelphia fans are passionate. We felt the loss. Deeply.
The girls at my high school were also infatuated with the Flyers and, for good or for bad, my favorite player: Peter Zezel. It got even worse when players turned up in the movie Youngblood. Hockey players were often very approachable so many girls would bring Polaroids of themselves standing with their objects of desire. How could we mere mortals compete?
Soon my Dad got season tickets and I went to more and more games, sitting in the second level, making friends with the other regulars around us. I learned all the motions the refs used to call penalties, screamed at Doug Crossman to stop watching the puck and moaned when Don Koharski made bad call after bad call or swallowed the whistle in the third period.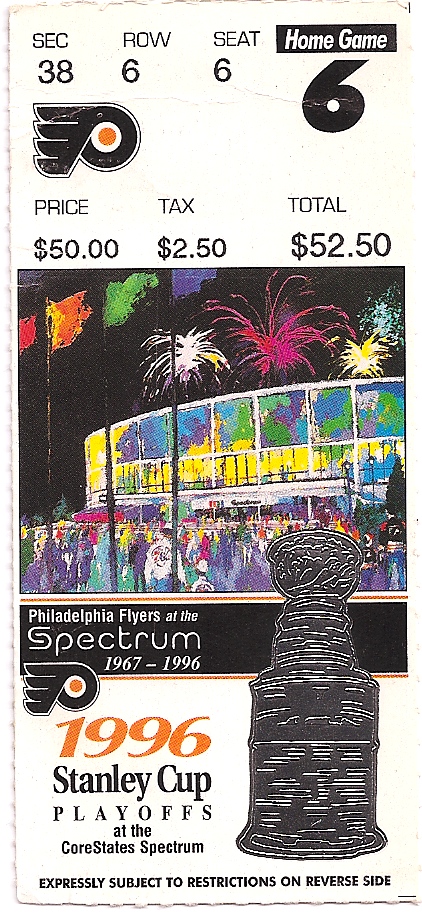 I recall the walk from the parking lot to the Spectrum. It was usually chilly but full of anticipation, my Dad and I trooping along with a happy plodding group of slightly inebriated fans. We usually sprinted back in an even more bracing night air, parked strategically to get out of the lot as quickly as possible and catch Gene Hart do the post game show on 610 WIP.
Then there was the 1992 All-Star game. My Dad and I went down to get a program and next to us is a familiar looking woman wearing a 'St. James' jersey. Who was it? Susan Saint James. Hockey fan. We forgave her for buying a Ranger jersey.
I'm still a hockey fan but just haven't gotten around to seeing it live, which is a real shame. The energy and vibe produced by the crowd during the game is just unmatched by any sport.
The funny thing is, it felt very much the same as all those years ago. It turns out hockey fans are pretty similar, and what they do in Philadelphia they do out here in San Jose. Though with slightly less fervor.
I'm too far away to go to a lot of games but I'll make sure I go to more from now on. In the interim, I've got my memories. I've got Ron 'Flockey Hockey' Flockhart and Ron Hextall.
I've got Section 38, Row 6, Seat 6.
The Next Post: SEO Success By A Thousand Optimizations
The Previous Post: Five Foot Web Design