This week Google made changes to Google Suggest (that drop down menu that provides the most likely completion for what you've typed) to include ads.
Similar to the navigational suggestions above, sometimes we detect that the most relevant completion for what you're typing is an ad. When an ad is shown, we mark it with the text "Sponsored Link" and a colored background, as on the results page.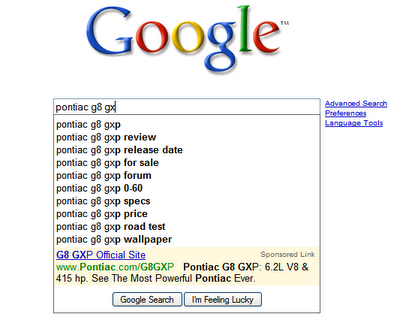 This isn't surprising but it is another indication that Google is actively seeking to increase paid search clicks through other products. Yahoo! put ads in news alerts and Google already inserted ads into Feedburner (FeedSense) and likely will into Google Friend Connect (FriendSense).
Will there be any type of reporting for this placement and, if effective, could it actually garner a premium rate? Time will tell.
However, expect to see more of these ad integrations as Google looks to increase revenue and growth in paid search.
The Next Post: How To Deal With Email Mistakes
The Previous Post: 5 Reasons Why Paid Search Is Down