Google is presenting two Did You Mean search results above regular search results, making misspelling optimization or fat finger SEO less effective.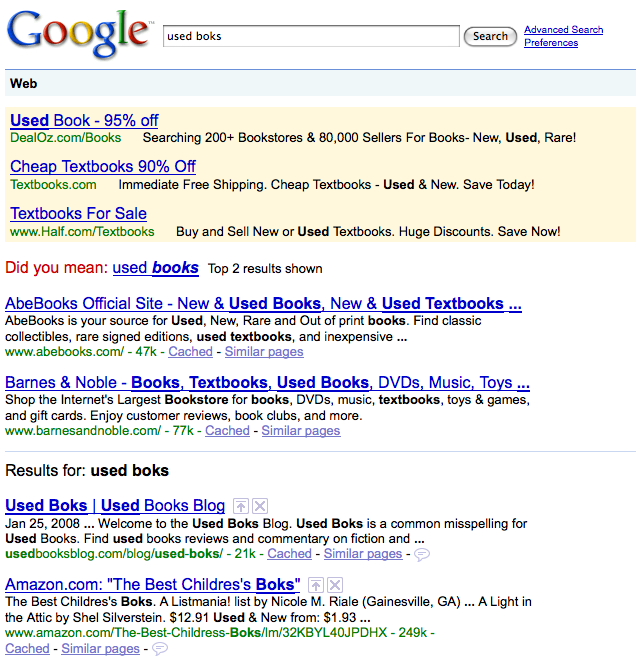 The result above is for used boks, a misspelling of used books. The Used Books Blog doesn't get a ton of traffic from the term, but it's been a steady trickle given that I'm the first result. (Take that Amazon!)
And I still might get some visits on the term, but I'd guess not nearly as much now that Google is actually presenting two Did You Mean results above the misspelled results.
I'm not sure when Google began to display Did You Mean search results, but it's relatively new since I often use the used boks example with clients. And Google could be testing the feature, so it might disappear and revert to displaying the lone Did You Mean line at the top of the results.
In fact, there are other misspellings that don't trigger the Did You Mean search results.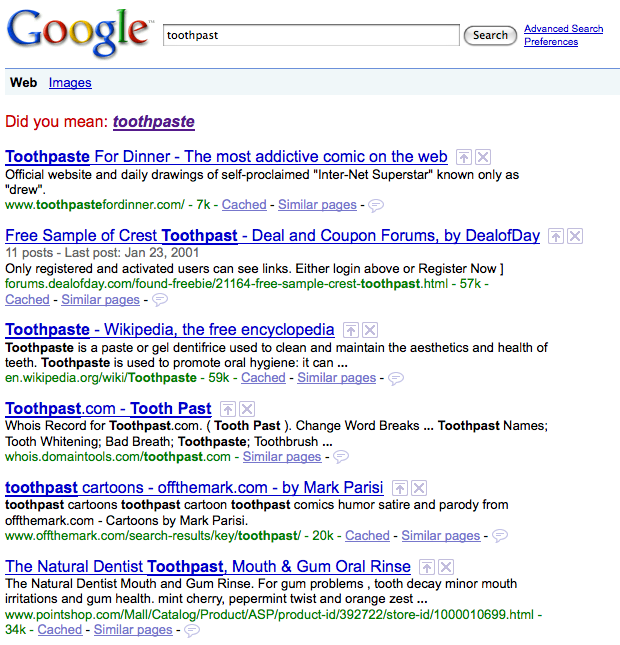 Come on! Toothpast doesn't trigger Did You Mean search results but used boks does? At least used boks could refer to a used jersey worn by the Springboks, a successful South African rugby team nicknamed the Boks.
I'm not against the feature. In many cases it likely provides users with a better search experience. Is Google testing this new feature? Does it only present Did You Mean results on certain misspellings? If so, what's the criteria?
I wouldn't put misspellings near the top of my optimization list, but they are often non-competitive and with a little effort you can snag the top spot and drive qualified traffic.
Understanding Google's new Did You Mean results could change the priority of or eliminate the need for misspelling optimization.
The Next Post: Digital Discovery Is SEO
The Previous Post: The Future of Search is Numbered