Does Google truly understand SEO? One would hope so but in the last few weeks Google took one step forward and two steps back.
What Google Says
Matt Cutts gave SEO a sort of backhanded compliment in a recent post about search neutrality.
I don't believe all search engine optimization (SEO) is spam. Plenty of SEOs do a great job making their clients' websites more accessible, relevant, useful, and fast.
I like Matt and I think he does understand and may even appreciate SEO.
And a recent Google Webmaster Help video titled Using Webmaster Tools Like an SEO was also a positive sign. The content is very basic and Maile seems to be talking like Mr. Rogers, but that's probably to ensure the video helps beginners and those where English is a second language. So, they talk the talk.
What Google Does
Does Google walk the walk? The new Google Engage program recently launched and I'm seeing ads on Google promoting it.

The keyword targeting seems focused around any term containing SEO. I got this one to fire when I searched for 'seo services'.
A different version popped up during my morning Google Reader review.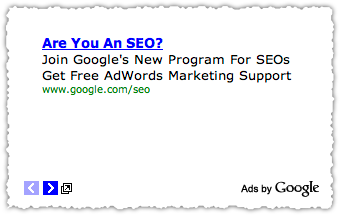 What's the problem? Google Engage has pretty much NOTHING to do with SEO. Here's the landing page.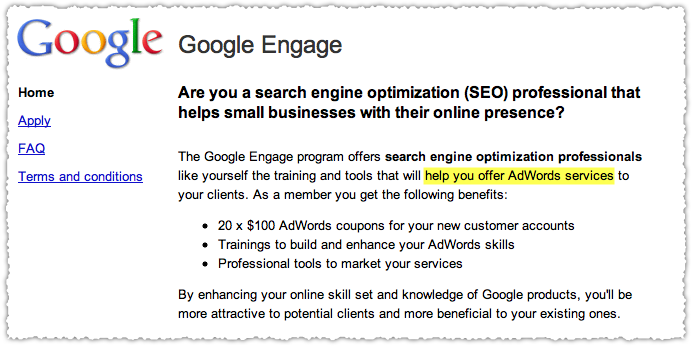 The highlighting is my own, but is there to underscore the fact that they're equating search engine optimization with AdWords services. I find this disturbing.
I would give most people outside of the industry a pass on distinguishing between SEO, SEM and PPC. Google is no outsider. I think it's pretty clear that SEO is about optimizing a site and pages for natural search. SEO is not about paid search.
Yet here they are advertising against SEO keywords, using an SEO focused display URL to encourage AdWords business. I'm left to believe that those behind Google Engage don't understand what SEO really is or that they know what SEO is and seek to convince people to spend on paid search traffic instead of optimizing for free search traffic.
Bait and Switch
So which is it? When I search for 'sem services' I get a different ad.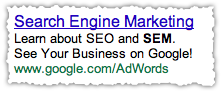 That ad takes me to an interesting page.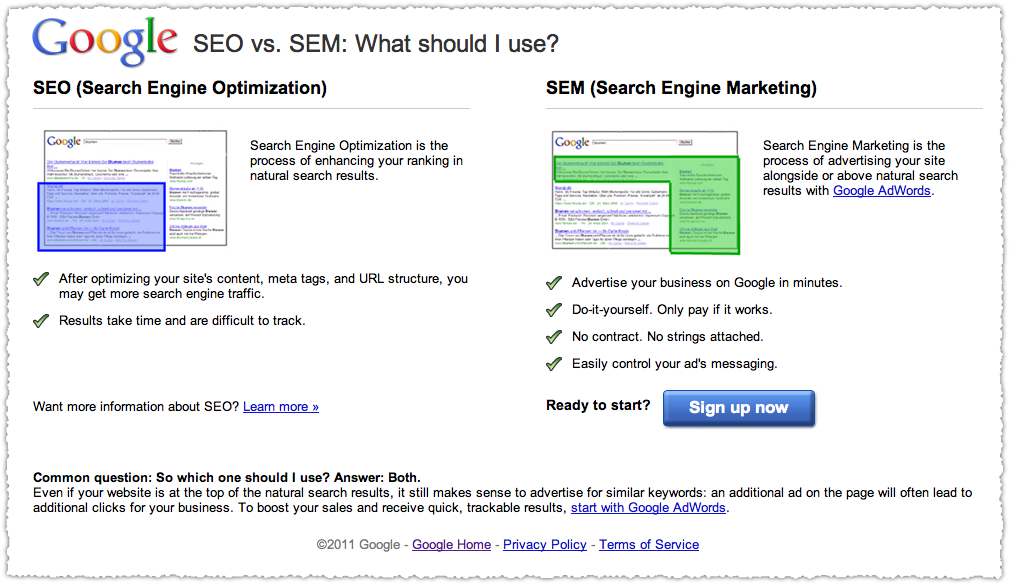 Huh. Looks like Google's got the definitions down pat. So I'm left to assume Google Engage is purposefully muddying the waters.
Am I blowing this out of proportion or are you disturbed by this bait and switch technique?
The Next Post: Blekko Censors Search
The Previous Post: Google Testing Supersized Sitelinks