If you've used Google Analytics for any stretch of time, you probably have a number of different Google Analytics profiles for your website. For instance, you might should be tracking keyword rank in a Google Analytics profile.
Different profiles can be handy but often the one you use the most isn't the default profile. Each time you log-in to Google Analytics it defaults to a profile based on an alphabetic sort. This is annoying and, sadly, Google hasn't launched a new 'select-as-default-profile' feature. Instead, there's a very simple and easy hack.
Google Analytics Default Profile Hack
First, click on Analytics Settings in your Google Analytics account.

From there, find the profile you want to be the default profile. Next to that profile, on the far right under the Actions column you should see an Edit option.

If you don't see these actions, you don't have the rights to make this change. Find someone with Administrator access or have them grant you that access. If you do see these actions, click Edit. Then you'll want to edit the main website profile information. The Edit link is located at the upper right side.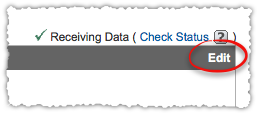 Now all you have to do is type an underscore at the beginning of your profile name. The example uses a domain entry, but it could just as easily be something like _My Website Name.

Then click Save and you're done. Don't worry, this will NOT impact the tracking on this profile. No data or history will be lost.
The underscore profile will now be the default profile since it's first alphabetically. It's certainly not the only way to do this, but this 1 minute hack can make your daily use of Google Analytics just a bit easier.
The Next Post: Impact of Google Instant
The Previous Post: Google Instant Analysis