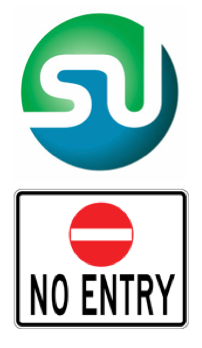 The other day I updated my StumbleUpon toolbar (well, I was essentially forced to) and immediately couldn't Stumble posts from this blog or my Used Books Blog. Each time I tried my Stumble just would not go through, stalling at a blank white box where the review and tagging takes place. I tried numerous times on a couple different browsers. Nothing worked.
I assumed that something had gone awry with the new toolbar. I even posted a message on FriendFeed calling eBay lame. But you know the old saying about assuming, right?
I sent feedback to StumbleUpon about my problem and got a prompt reply as follows.
Hello,

Thanks for writing in.

After reviewing your account history, it appears
that you've repeatedly submitted content from one
or more sites in particular.

Our site software detects behavior like this to
prevent the unauthorized use of StumbleUpon to
promote a specific Web site, product or service.

This limit will likely remain in place until you
use the StumbleUpon Toolbar more frequently to
rate, review and discover Web sites that can
shared with other members.

If you're interested in using StumbleUpon to
advertise a Web site, please look into our
Advertising program:
http://www.stumbleupon.com/ads

If you have any other questions, please review our
Terms of Service and Community Rules:

http://www.stumbleupon.com/terms/
http://www.stumbleupon.com/rules.html

Thanks for your feedback,
Oops. I admit, I've only been Stumbling my own sites lately. However, I think they're pretty good so I don't see anything too wrong with that. Also, I'm pretty transparent. I don't have a Stumble army nor do I have multiple profiles so I can distribute my Stumbles across accounts and dodge the software.
But I get it and I'm not really complaining. It's not what StumbleUpon is really supposed to be about. And I respect them for protecting the product and StumbleUpon business model. It also got me to Stumble again and I discovered some interesting sites and images. So … thanks for that.
My one nit would be that I had to contact support to get this information. Instead of presenting the white box of frustration I suggest that StumbleUpon simply insert the text I received into that area. Not only would I have immediately understood what was going on and not throw invective into the htmlosphere but StumbleUpon would have saved a bit of money on customer support.
Forgive me StumbleUpon for I have sinned. My penance? Stumble.
The Next Post: Google Taxonomic Search And SEO Affirmative Action
The Previous Post: Does Google Have Pac-Man Fever?