I'm not the biggest fan of Facebook for personal use. Instead, I hang out at FriendFeed. The main reason is because FriendFeed revolves around content instead of people. The secret sauce is the Friend of a Friend (FoaF) feature. FoaF lets me see content that my friends commented on or liked. So instead of my world view being limited to just my friends, I let my friends bring interesting content to me from other people.
Using people as filters. Information discovery at its best.
Facebook Friend of a Friend
The other day I visited Facebook and lo and behold I saw something different … yet familiar.

I haven't liked Dexter. He's not my friend. But I'm seeing Dexter's status because Oguz and Louis (who are my friends) liked it. The beauty of this is that I enjoy Dexter (though I'm way behind and am only on season 3.) Sure enough my friends (my filters) brought me the 'right' content.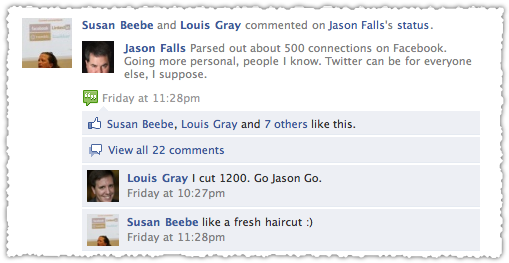 Here's another instance. I'm not connected to Jason Falls. Sure I know who he is but we're not buds. Yet, I'm seeing his status update because Susan and Louis commented on it. Once again, it's content that is interesting to me. I've been talking about follow and friend abuse for a long time so it's great to see others pruning their connections.
And while I've used two status examples, I've seen FoaF on photos and links as well.

I'd have to have my head in the sand not to know who Loic is, but I'm not friends with him. I see his link because Oguz commented on it.
The FriendFeedification of Facebook
Facebook's implementation of FoaF as well as duplicate detection and aggregation all make me like Facebook a lot more. Suddenly, I can use Facebook like I use FriendFeed. In fact, it may actually work better since there are (sadly) so many more people on Facebook.
I'll likely be spending more time on Facebook. That's something few people – myself included – thought they'd ever hear me say. The only (big) thing remaining is lists so I can create different views of the content my friends and their friends bring me.
Oddly, I'm more confident this will happen given the continuing FriendFeedification of Facebook.
The Next Post: My Name is Miami Attorneys (and now SEO must die)
The Previous Post: Don't Lose That Billy Idol Sneer