(From time to time I post things outside of search, marketing and social media. This is one of those posts. So if that's not what you're looking for, this is your time to bail.)
For my birthday I received a Kurt Kinetic Bike Trainer. I've been on it a lot lately, spinning away in my new garage while listening to a variety of music. Yesterday it was Billy Idol's Vital Idol, a collection of extended versions and remixes of some of his more popular songs.
I'm not exactly the biggest Billy Idol fan, but he – and this album in particular – captured a moment in time for me. I recall driving down to the shore (Long Beach Island to be exact) during the height of summer. I left at 3 or 4 in the morning to beat the traffic that inevitably stacked up on the two lane highway. It was rather desolate, my headlights making a small hole in the darkness as I flew past the gnarled Pine Barrens on Route 72.
Vital Idol was in the cassette player. The music was loud, drowning out the roar of the wind through the open windows. The adolescent sex fueled lyrics, thumping beat, synthesized surround wash and Steven Stevens blazing guitar riffs seemed to make the car fly.
What I remember is being in that moment. Being completely content – not complacent – but simply enjoying the small horizon ahead of me, arriving in LBI and doing whatever felt right once I got there. The future was small, yet large. What happened next? I simply wanted to find out.
Return to splendor
I believe that state of mind is important to retain. Yet, as we get older we accumulate responsibilities (families, mortgages and retirement portfolios) and a history of experience (success and failure) that makes it difficult to do so.
Instead of being consumed with the future and protecting ourselves, what if we let things happen? What if we got that teenage swagger back? What if we didn't dwell on that track-record of experience, the knowledge that failure could lurk around the corner?
Am I talking about risk taking? Sort of, but not really. Am I talking about 'thinking out of the box'? It's more about throwing the box out altogether. That box is how things are supposed to be, but why are they supposed to be that way? Who says!
Paul Buchheit has written eloquently about this on a few occasions, helping to remind me not to live based on fear or lack of imagination.
It's a nice day to start again
Thankfully my past is littered with examples of starting again. When I knew advertising wasn't going to be my career, I quit. No job to go to, just the knowledge that it was time to move on. I did data entry temp work for PBS in Alexandria, Virginia until I got a job in fundraising.
When that job disappeared, a retroactive job freeze of all things, I took it as a sign. I drove cross-country from D.C. to San Diego with girlfriend (now wife) and cat in tow. When I tired of fundraising and wanted to get into Internet marketing I moved to San Francisco.
The Web 1.0 bubble burst and I wound up back in fundraising at De La Salle High School. One of the Lasallian teachings is that you can only take the step right in front of you. You can only make the next best decision. Trying to forecast the future is fruitless because each decision leads to something completely different.
I'm not a religious person, but this resonated strongly with my own personal beliefs. So when I broke down sobbing at an assembly, mourning a miscarriage and depressed over my job, I knew it was time to really do something.
And I did. I got back into Internet marketing. In fact, I got into search marketing. And see where that led?
Sweat, Sweat, Sweat
Here I am today, a husband and father with a new mortgage. The reflex for economic stability is huge. Yet, I began consulting because I wanted to spend more time at home with my family. I had no idea if it would be successful. But it was and I couldn't be happier.
So now I spin on my trainer. I sweat. I sing along with my 17-year old self. My heart is full and I look forward to what comes next.
I tell myself I'll do the Mount Diablo Challenge again in 2011. I tell myself that I'll continue to work from home and spend time with the family. I tell myself that I'll figure out ways to leverage my growing consulting business. There will always be people who say you can't, but if you're one of those people, you're doomed from the start.
I had chronic appendicitis as a child. I've been hit by a car while bicycling. I've been mugged. I was unemployed for nearly a year. I dealt with the heartbreak of a miscarriage. I went through a crisis of confidence. Do those experiences make me stronger? I don't know. But I know I have my sneer back.
It's a sneer that says I'm going to enjoy the life I create … and you can't stop me.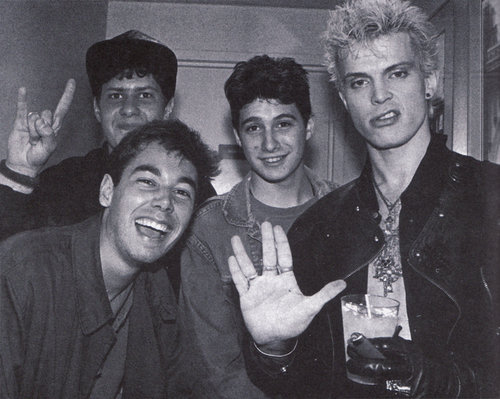 Don't lose that Billy Idol sneer
The Next Post: Facebook Friend of a Friend
The Previous Post: Bounce Rate vs Exit Rate