One of the biggest errors I see (consistently) in SEO and PPC analysis is using Excel's AVERAGE function on Click Through Rate (CTR). As I mentioned in my SEO Pivot Tables post, do not do this. Here's why averaging CTR is dangerous.
Take the following set of 10 data points.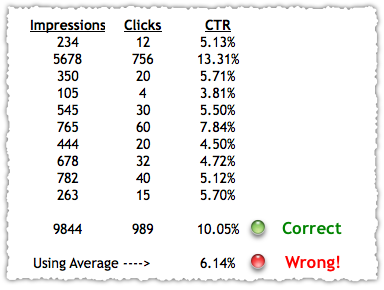 If you SUM all of the Impressions and Clicks and then do the CTR calculation you arrive at 10.05%. If you AVERAGE the 10 CTR percentages you arrive at 6.14%.
If I change the Clicks for these 10 data points I can produce the opposite effect.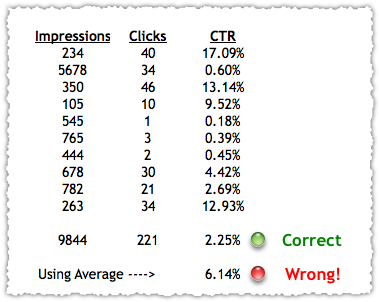 And will you look at that, the average CTR is the same in both instances. Can you see how misleading average can be here?
Don't Average Click Through Rate

For years, I've used a structured Excel quiz in my hiring process that tests just this issue. In my experience upwards of 50% of applicants fail the quiz. If you're pulling down data into Excel for PPC or SEO, make sure you don't fall into this trap.
The Next Post: How To Get 100 Likes From 2 People
The Previous Post: Facebook Like Number Bookmarklets