The other day I wrote about the potential for inflated Like numbers. In particular, I was interested in how comments were factored into the Like total.  It was pretty clear that Likes and comments were not mutually exclusive. But were comments a count of unique contributors or simply a total count of comments.
The Like Experiment
So, I ran a small experiment using an old satirical blog post: LOLCats and Religion: A Dissertation.
This post originally had two shares but no Likes or comments. So I went ahead and Liked it and asked my colleague Jeremy Post to have a comment dialog on the item. In all, we generated 10 comments.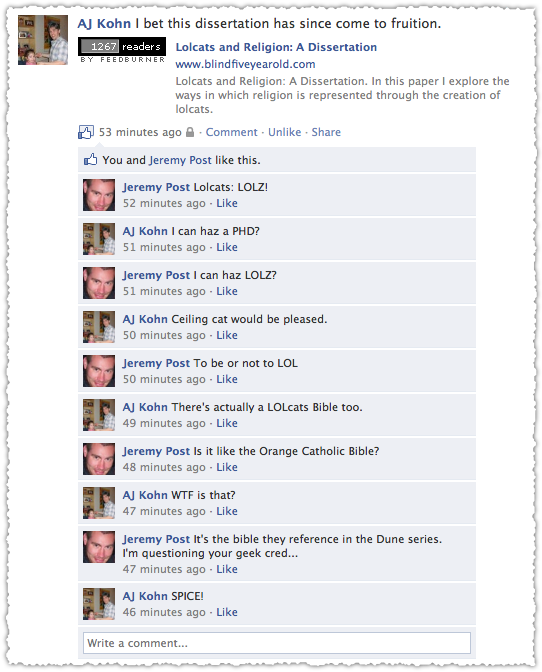 One of my concerns was that comments might not always relate to the item and interestingly enough we actually did switch topics during the dialog from LOLCats to Dune. Go figure. (Note to self – fix image being attributed to blog posts.)
The Like Results
So what was the result? How many Likes did this old post rack up due to this comment stream? Sure enough, every comment is counted as a Like.
A quick check using my Facebook Like Number Bookmarklet reveals how the number is calculated.
So, did 13 others like this? No, it's just two people having a conversation on a shared item. And that's how you could get …
100 Likes from 2 People on 1 Item