I often fail to thank folks properly. I mean to do it but … I wind up getting busy and then a week goes by and then a thank you seems false. Yet, I truly do appreciate it!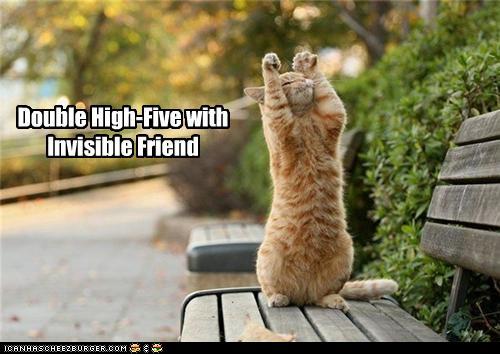 So it seems apt on Valentine's Day to thank the many people who have influenced, supported and helped me over the past year.
Aaron Bradley (@aaranged) at SEO Skeptic has consistently provided engaging dialog on my blog. I hope to return the favor. Aaron is a thought leader, willing to rely on his own critical analysis in looking at a subject.
Michael Martinez (@seo_theory) at SEO Theory isn't going to give you the same old SEO spiel found on hundreds of other blogs. Like Aaron Bradley, it's great to find free thinkers in an industry with plenty of sheep.
Rob Diana (@robdiana) at Regular Geek is amazingly smart and engaging. Not only has he been a great supporter but he is vital to helping me find the best information on the Internet.
Matt McGee (@mattmcgee) and Danny Sullivan (@dannysullivan) are great people who have given me the opportunity to be an Editor at Sphinn. I sincerely appreciate their confidence.
Matt Cutts (@mattcutts) is a decent and generous guy. He may not always provide the answer I want to hear, but he's nearly always there with an answer nonetheless.
Paul Buchheit (@paultoo) is, among other things, the founder of FriendFeed. That alone gets him on my list but his personal blog has also been inspirational.
Rick Bucich (@rbucich) has been a long time supporter of me and my blog. He's wicked smart about SEO, so it's a real compliment to have him in my corner.
Andrew Hanelly (@hanelly) has made some complimentary comments on the blog. That's great, particularly since his own blog is great as well.
Jeremy Post (@jeremypost) is the best colleague I've had since I began SEO. Smart, hard-working and an all around good guy. He keeps me on my toes. Bonus – he brews his own beer.
Jonathan Mendez (@jonathanmendez) at Optimize and Prophesize provides amazing insight, bridging search and display. I've been lucky to interact with him a few times and always feel smarter afterward.
Lisa Barone (@LisaBarone) at Outspoken Media was kind enough to feature my Facebook SEO Guide in one of her posts. I'd be lying if it wasn't nice to be acknowledged by one of the 'cool crowd' in the industry.
Rand Fishkin (@randfish) is CEO and Co-Founder of SEOmoz. You'd have to live under a rock not to know of Rand. I don't know Rand personally, outside of a small email exchange, but his personal blog has been influential. I'm blogging more and better able to deal with haters because of his writings.
Aleyda Solis (@aleyda) at Aleyda Solis has been a tremendous supporter. My Spanish isn't very good so I'll simply say muchas gracias.
Kirby Freeman (@kirbyfreeman) is whip smart with a true gift for building product. She made me look good.
Michael Fruchter (@fruchter) has been a great supporter and another source for great content.
Micah France (@micah_france) has been generous with his comments and Tweets. They don't go unnoticed.
Eric Logan (@ericloganvanman) is nearly always the first person to Like one of my posts on FriendFeed. It just seems like he's got my back.
Roberto Bonini (@rbonini) is also quick to Like my content on FriendFeed. I appreciate it.
Louis Gray (@louisgray) introduces me to new and interesting services – constantly. He's perhaps the nicest guy you'll ever meet too.
Tad Chef (@onreact_com) at SEOptimise is always interesting and was kind to include me in his 30 Great SEO Blogs You Might Not Know Yet.
Elisa Gabbert (@egabbert) at WordStream is smart and funny. It's awesome when someone like that references your work.
Alexia Tsotsis (@alexia) put my contact information smack dab on TechCrunch. That can't be bad for business.

Tamar Weinberg (@tamar) at Techipedia does a fantastic job finding the best in Internet marketing. It was an honor to be on her list of Best Internet Marketing Posts of 2010.
Matt Gammie (@mattgammie) has been an interesting new and diverse voice. I appreciate the dialog.
Derek Perez (@perezd) at Perezium is wise beyond his years. He's a hoot to be around but serious about the intersection of code, UX and start-ups.
Chris Eppstein (@chriseppstein) is an amazing Software Architect. Many of our conversations about search wind up as blog posts. I hope that continues.
Srikanth AD (@srikanth_AD) has been a great supporter, particularly on Quora.
Jill Whalen (@jillwhalen) at High Rankings is quick with an answer and always has an informed opinion. I may not always agree, but I like that she's got an honest point of view.
Mark Essel (@VictusFate) at Victus Spirtus let me ride shotgun on his entrepreneurial ride. It's been amazing to follow and his frequent blog posts often point me in interesting directions.
Mahendra Palsule (@ScepticGeek) at Skeptic Geek is a gold mine of information and insight. I'm thankful for his support and appreciate his editorial prowess.
Kristi Hines (@kikolani) at Kristi Hines is a dynamo. I certainly appreciate the mention.
Ruud Hein (@RuudHein) at Search Engine People is a great writer and search historian. Bonus – he's friendly on Twitter.
Barry Schwartz (@rustybrick) has included me in a number of his daily search recaps. Thank you.
Danny Brown (@dannybrown) is a paragon for all bloggers. He's smart, down-to-earth and incredibly responsive.
Greg Sterling (@gsterling) at Screenwerk was kind to chat with me at SMX Advanced. He's the guy to talk to about local and mobile.
Bill Slawski (@bill_slawski) at SEO by the Sea provides an incredible service to the SEO industry. We all appreciate it.
Donna Fontenot (@DonnaFontenot) at DazzlinDonna is as generous and nice as she claims to be.
Bill Rowland (@billrowland) at Nexus Interactive Marketing has commented on the blog a number of times. I'm thankful for his contributions.
Marty Weintraub (@aimclear) at aimClear for reminding me that search is fun. I hope to deliver as much value when I next present.
The music is playing so let me quickly squeeze in others who have written about me on blogs, mentioned me on Twitter or included me in their daily news.
The number of folks who have been kind to me is overwhelming. I hope I continue to earn your comments and support. And I know I've left off a lot of people (particularly folks at FriendFeed). So thank you to those that I have unintentionally missed.
Happy Valentine's Day.